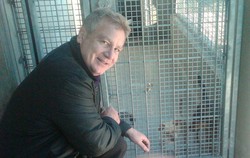 Two of the animal shelter volunteers with tears in their eyes came over to hug me. They told me how grateful they were and what a difference it made to the well being of both the dogs and cats during these cold months.
Los Angeles, CA (PRWEB) March 3, 2011
When Richard Maize is not helping the homeless in LA, he can be seen assembling beds for stray dogs and cats at the Los Angeles Animal Shelter.
"My wife Rochelle and I are proud to have donated 69 beds to stray dogs and cats which are awaiting caring homes," says Richard Maize.
"We trust that our actions here today will serve as an inspiration to many others in helping these loyal, intelligent, four legged friends of ours who are responsible for protecting our homes, making sure that they are clean and providing us and our children with an abundance of unconditional love."
"Thousands of dogs in animal shelters across the country sleep on cold, wet, concrete floors 24 hours a day, 7 days a week. Cats in cages have little alternatives to sleeping in their litter pans," says Richard Maize.
Richard Maize is a proud pet owner taking care of several dogs and cats over many years.
He owns two pets today - a Shiatsu dog and Himalayan cat. Maize recently lost a young, 4 year-old Yorkshire Terrier named Penny to brain disease that he says still brings tears to his eyes when thinking about her.
"We contacted Kuranda USA, a small manufacturing company based in Annapolis, Maryland. They provide "chewproof" designs for kennels, shelters and chewing puppies. These beds are soft, off the floor providing comfort for dogs and cats of all sizes for many years. They are easy to clean and deodorize."
Richard Maize states: "These beautiful dogs and cats provide us and our children with protection, companionship and unconditional love. The least we can do is make sure that they are safe, comfortable and being cared for in the best and most professional manner."
According to the National Council on Pet Population Study and Policy there are about 5,000 community animal shelters in the US that are independent; there is no national organization monitoring these shelters. The terms "humane society" and "SPCA" are generic; animal shelters using those names are not part of the ASPCA or the Humane Society of the United States.
Currently, no government institution or animal organization is responsible for tabulating national statistics for the animal protection movement. Approximately 5 million to 7 million companion animals enter animal shelters nationwide every year, and approximately 3 million to 4 million are euthanized (60 percent of dogs and 70 percent of cats).
Shelter intakes are about evenly divided between those animals relinquished by owners and those picked up by animal control. These are national estimates; the percentage of euthanasia may vary from state to state.
According to the National Council on Pet Population Study and Policy, less than 2 percent of cats and only 15 to 20 percent of dogs are returned to their owners. Most of these were identified with tags, tattoos or microchips.
Twenty-five percent of dogs who enter local shelters are purebred.
Only 10 percent of the animals received by shelters have been spayed or neutered. About 75 percent of owned pets are neutered.
According to Ralston Purina and NCPPSP, the majority of pets are obtained from acquaintances and family members. About 15 to 20 percent of dogs are purchased from breeders, and 10 to 20 percent of cats and dogs are adopted from shelters and rescues.
More than 20 percent of people who leave dogs in shelters adopted them from a shelter.
Five out of ten dogs in shelters and seven out of ten cats in shelters are destroyed simply because there is no one to adopt them.
"This bed for pets thing was not my idea nor was it even on my radar as possible donations for me and the Rochelle and Richard Maize Foundation. A dear friend of mine called me and asked if I would be interested in donating some money to give dogs and cats specially designed beds so that they would not have to lay on cold concrete while waiting and hoping for a good home," says Richard Maize.
"After waiting for three weeks after the order of these special beds, they finally arrived. My friend and I couldn't wait until we drove up to the West Los Angeles Animal Shelter to see that the caged dogs were in fact on the beds. Someone else donated blankets to be placed on these beds. Many of these dogs found the beds in their spacious cages and where happily laying there when we arrived."
"Two of the LA animal shelter volunteers had tears in their eyes as they came over to hug me. They told me how grateful they were and what a difference it had made to the well being of the dogs and cats during these cold months."
Richard Maize continues: "I have been involved in many charitable acts and all are great. Up to now, I found giving directly to the needy (i.e. - the homeless) was and is a very rewarding experience. Caring for these rescued animals was as good or if not even better in many ways. These innocent animals that are in critical need of being rescued, protected, fed and looked after are at least today living a little better."
"We thank Lt. Castillo and the Los Angeles Animal Shelter for their unselfish work in contributing to our community. In keeping these loving dogs and cats warm, out of the rain and well fed," says Richard Maize.
"The Rochelle and Richard Maize Foundation remains ready to contribute both our time and efforts in the future for these beautiful and loving animals."
The Rochelle and Richard Maize Foundation is a philanthropic organization that supports and contributes volunteer and financial resources to causes locally in the community and worldwide by supporting meaningful programs focusing on art, culture, family services and health care that work to help people live more fulfilling lives.
Richard Maize, a respected leader in the mortgage banking real estate industry, and a mentor to young entrepreneurs, has generously supported organizations and causes including the American Cancer Society, Vista Del Mar Child and Family Services, Hurricane Katrina, Los Angeles Police Foundation, USO, Haiti earthquake relief efforts, Israel Flying Aid, Maccabiah Jewish Olympic Games and the Cedars Sinai Board of Governors.
Richard Maize and his wife, Rochelle Maize, are longtime benefactors of many other non-profit organizations and Richard Maize has been recognized for his efforts on behalf of more than a dozen charitable groups and community projects.
The Rochelle and Richard Maize Foundation supports an extraordinary number of foundations, organizations, and non-profit groups.
###