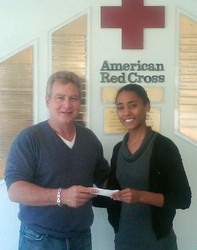 We trust that our donation will inspire others to keep donating as the depth of this disaster in Japan has yet to be realized.
Los Angeles, CA (PRWEB) March 26, 2011
On Friday, March 11, 2011, a 9.0 magnitude earthquake hit Japan. This triggered 4 meter waves in Japan and tsunami warnings across the Pacific coastline. Over 10,000 people are reported dead, and many more are injured or missing. The earthquake caused fires and severe damage to buildings, leaving millions of households without electricity.
"The Japanese Red Cross has deployed medical tents and over 80 medical teams to the affected area," said Richard Maize. "Volunteers are on the ground providing first aid and search and rescue operations. The Red Cross has started Restoring Family Links activities and emergency relief planning is underway."
Maize continues: "The Red Cross says that in many respects, the March 11 earthquake and tsunami in Japan's northeast is rapidly becoming a disaster associated with the elderly. The three evacuation centers in the shattered town of Otsuchi are filled with the old and ill. Many are too tired or too sick to do little but lie on mattresses on the floor, swathed in blankets. The weather is taking a heavy toll on the health of the survivors in evacuation centers, many of whom are elderly. Japanese Red Cross Society doctors say there has been an increase in cases of influenza and some diarrheal diseases."
"The response to the Japanese earthquake in Los Angeles has been tremendous both within our Japanese American population but very much across the board," said Charlie Sardou, Chief Communications Officer of the American Red Cross Los Angeles Region. "Because of where we are located we are seeing significant gifts from a wide range of businesses."
Sardou added: "Fundraising started somewhat slowly over the weekend. I think that was because the images seem overwhelming almost like a B movie and we were not seeing the human suffering but by Monday people recognized just how devastating the earthquake in Japan was and people responded."
"Like any disaster the International Red cross is called in by the host country," says Sardou.
"Given time and logistics needed the initial medical response is handled within Japan using Japanese volunteers. It also did not make sense to fly new volunteers into a potentially dangerous nuclear situation.
"So at this point the American Red Cross is essentially in a support role for the Japanese Red Cross."
"People always want to know if they can donate food or clothing in a disaster like this," says Sardou.
"Unfortunately, given the differences in body sizes, diet, and the cost to ship clean and sort clothing, there are almost no circumstances were this makes sense economically. Ideally the Red Cross is buying products from local vendors to help rebuild local vendors rather than somewhat competing against them."
The American Red Cross states that when a disaster strikes—wherever it occurs—Americans want to help. They organize community fundraisers, they arrange telethons and they text in $10 increments. These activities are a reflection of their compassion and generosity. The American Red Cross is able to accept and channel this spontaneous support to partners directly involved in meeting humanitarian needs for those affected by the March 11 earthquake and tsunami and the evolving nuclear emergency.
"The Japanese Red Cross is our main partner on the ground responding to this disaster," says Sardou.
"It has thanked the American Red Cross for its financial support and told us that donations from the American people are much needed and will be put to good use. We pride ourselves on being able to assist people down the street, across the country and around the world, and we thank the American people for their part in helping save the day. We also pride ourselves on being accountable and responsive to our donors. As experts on the ground decide the best way to help survivors, we will share back with the public the impact of their contributions."
Sardou adds: "It's also important to know that the American Red Cross gave the Japanese $10 million after the Kobe earthquake in 1995, and the Japanese Red Cross sent us contributions after September 11 (over $17M) and Hurricane Katrina ($12M). Finally, it is not unusual for Red Cross societies to gratefully accept funds without first asking for assistance. The American Red Cross never asked for assistance from other Red Cross societies during Hurricane Katrina—but we gratefully received over $100 million to help people in need."
For mobile text donations to the American Red Cross use REDCROSS at 90999.
"The vast majority of the money raised through mobile giving, online giving and by mail for the Japan earthquake and Pacific tsunami will go to help those affected by the Japan earthquake and Pacific tsunami," says Sardou.
On average, the American Red Cross spends 91 cents of every donated dollar on disaster relief operations and recovery efforts. The other 9 cents supports the general operations of the Red Cross such as human resources, information technology, communications, fundraising and corporate finance.
"Priority needs - especially from the three worst-affected prefectures in Iwate, Miyagi and Fukushima—are fuel, temporary shelters, food, sanitation materials, clothing, medicines and household appliances," says Richard Maize.
"There is also concern for the elderly, who require medication for chronic diseases and are especially vulnerable to hypothermia. The Japanese Red Cross is performing health checks, taking blood pressure and providing blankets to help comfort and monitor their well-being in the evacuation centers. Japan is a country with a high proportion of seniors (UN: one-fourth of the population is over 65), and the Red Cross will be doing all it can to support them through this dreadful experience."
Richard Maize concludes: "If there was ever a time to donate to the American Red Cross - that time is now. The Rochelle and Richard Maize Foundation today made a financial contribution which we pray will comfort many displaced children and the elderly in Japan. We trust that our donation will inspire others to keep donating as the depth of this disaster in Japan has yet to be realized. "
The Rochelle and Richard Maize Foundation is a philanthropic organization that supports and contributes volunteer and financial resources to causes locally in the community and worldwide by supporting meaningful programs focusing on art, culture, family services and health care that work to help people live more fulfilling lives.
Richard Maize, a respected leader in the mortgage banking real estate industry, and a mentor to young entrepreneurs, has generously supported organizations and causes including the American Cancer Society, Vista Del Mar Child and Family Services, Hurricane Katrina, Los Angeles Police Foundation, USO, Haiti earthquake relief efforts, Israel Flying Aid, Maccabiah Jewish Olympic Games and the Cedars Sinai Board of Governors.
Richard Maize and his wife, Rochelle Maize, are longtime benefactors of many other non-profit organizations and Richard Maize has been recognized for his efforts on behalf of more than a dozen charitable groups and community projects.
The Rochelle and Richard Maize Foundation supports an extraordinary number of foundations, organizations, and non-profit groups.
# # #