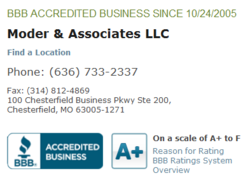 Chesterfield, MO (PRWEB) July 19, 2011
Chesterfield, Missouri Retirement Planning Specialist, Richard Moder hosts an evening on securing the path to retirement.
Richard Moder will provide information to attendees on avoiding losses during market corrections and recessions, transferring tax-free wealth to loved ones and implementing a strategy within current IRA's to increase the amount left to loved ones. Attendees will also learn how to decrease nursing home "spend down" and update their trusts, wills and other important documents.
This invitation-only event will be held on Monday, July 25th, Tuesday July 26th, and Thursday July 28th at 2:45 pm. To reserve a seat at one of the workshops call (800) 836-6945, seating is limited and reservations are required.
Moder and Associates, LLC specializes in giving retirees new information and ideas that make sense. Their strategies are built to increase and guarantee a lifetime of income, minimize taxes and preserve principal. With the philosophy of placing the needs of their clients first, their years of experience provide a deep resource to draw from at any time.
About Moder & Associates, LLC
Moder and Associates, LLC is an approved member of the Better Business Bureau wih an A+ rating and have earned the trust of many within their community. Moder & Associates focuses on Senior Planning and is committed to exemplary client service, while displaying the highest standards of ethics and professional knowledge.
This material has been prepared for informational and education purposes only. It is not intended to provide, and should not be relies upon for accounting, legal, tax or investment advice. Some Insurance products contain limitations including potential surrender charges and withdrawal penalties. Guarantees based on the financial strength and claims paying ability of the insurance company; not guaranteed by any back or the FDIC. Insurance products could be discussed and offered at a later date. Guaranteed lifetime income available through annuitization or the purchase of an optional lifetime income rider, a benefit for which an annual premium is charged.
# # #