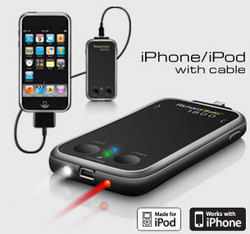 San Francisco (PRWEB) May 13, 2009
RichardSolo.com, the online gadget store created by Richard Thalheimer, unveils the latest innovation to their well-known line of backup batteries for iPhone/iPod. The original RichardSolo 1800 backup battery has a direct plug-in design where the battery latches directly onto the connector of the iPhone/iPod.
The newest battery is the RichardSolo 1800 with Cable, model RS008, which uses a cable with a mini-USB to Apple-licensed connector. It works for both versions of iPhone and all models of iPod, except shuffle.
However, the most important design improvement offered by this new RichardSolo 1800, is the ability to listen to music and charge your iPod at the same time. The cable connection does not block the headphone jack, allowing extended and continuous iPod enjoyment, with no interruptions.
If you are an iPod touch user, this is the battery specifically designed for you. It is offered online at RichardSolo.com for $69.95 including accessories.
In addition to charging the iPhone/iPod, the RichardSolo 1800 has a built-in laser pointer and an ultra-bright LED flashlight. The package includes a 110-240 volt AC wall charger, a dual-port USB car charger, and a retractable USB cable. It also comes with a free bonus hard case for the iPhone 3G.
RichardSolo has just released this custom-designed case for the iPhone 3G. The new iPhone case works perfectly with the RichardSolo 1800, models RS001 and RS008. The RichardSolo Custom Case for iPhone 3G has a textured finish that is virtually scratch-proof. It is a low profile case that adds little bulk while protecting your iPhone, and slides easily in and out of your pocket. It sells online at RichardSolo.com for $24.95. But, for a limited time only, the RichardSolo Custom Case for iPhone 3G is free with purchase of either the RS001 or the RS008 battery.
For more information, visit the website at RichardSolo.com
RichardSolo.com was launched in 2007 by Richard Thalheimer, the founder and former CEO of The Sharper Image. Since leaving Sharper Image in 2006, he has focused on accessories for iPhone and iPod. With innovative solutions, the website has become the market leader in its space of portable charging solutions for iPhone, iPod, and BlackBerry. RichardSolo.com has always put customer service and satisfaction as a first priority.
iPod is a trademark of Apple Inc., registered in the U.S. and other countries. iPhone is a trademark of Apple Inc.
###