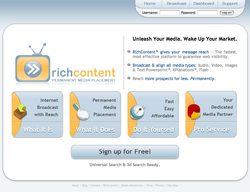 I've always felt there was an effective way to help companies leverage their existing content to increase visibility, market reach and sales. A way to greatly extend the life of their media and get it to pay-off for them nearly forever. Permanent Media Placement does just that.
Portland, OR (PRWEB) October 1, 2007
For companies looking to gain web visibility, getting above the web's noise threshold has become a serious challenge. RichContent.com has developed a system of optimizing a company's existing content and placing it on the web's most visible sites to help companies gain increasing results from their web site. Video, audio, images, text, Powerpoint(tm) presentations, podcasts, blog entries, product brochures -- these are all media assets that can be leveraged to help company's expand their online footprint.
The RichContent.tv web site provides instant uploading of content. From there RichContent's in-house media staff edits this content to create 10-second to 4 minute media blurbs. Editors then pull together or develop 4 images, a text transcript, article or press release and often a podcast. This content is tagged, branded and injected into 10 to 120 of the most visible web sites in the world. RichContent's Social Media staff perform ongoing optimization and syndication of the content to ensure the greatest syndication for each media placement.
"Permanent Media Placement(tm). That's the process of distributing and optimizing media assets in a persistent way" says Mark Alan Effinger, CEO and Evangelist for RichContent Corporation. "I've always felt there was an effective way to help companies leverage their existing content to increase visibility, market reach and sales. A way to greatly extend the life of their media and get it to pay-off for them nearly forever. Permanent Media Placement does just that."
Effinger is referring to distributing client content to sites that keep this media in place indefinitely. Then those content placements can be optimized through a series of processes to drive visitors, traffic, brand, clicks and sales indefinitely.
"Since 2003 we've discovered some unique characteristics concerning media and the web. Characteristics that provide a roadmap to successful web content optimization and pickup" says Mr Effinger. "We developed a process called 'Content Harmony(tm)' that links each media asset together: video, images, text and audio. Then we link these assets to our client's web site. The connection between these media components, where they're placed and how they link back to the client site creates predictable, highly-leveraged results."
With the search engines all developing strategies to incorporate multiple media types into search results, the process of gaining the coveted first page placement becomes more complex. The RichContent Permanent Media Placement engine is a web platform that directly addresses this new issue. Individuals, corporations, ad agencies and online marketing firms have instant access to the platform, quickly uploading their content files and completing short form fields that put RichContent media and editorial crews into action.
Rather than simply first-page results, the RichContent process provides many results across many pages. Each result provides an additional opportunity for prospects to find the client, or reinforce the message. Each Permanent Media Placement re-energizes prior placements. This drives cumulative results across a RichContent campaign.
This novel approach works well as an equalizer: a way for smaller firms and individuals with an important message but a limited budget to gain traction with their target audience.
"Temporary advertising will always be with us. 30-day magazine placements, 90 day ad campaigns... these are what have built the industry. We believe we can work alongside these programs to ensure companies gain cumulative results from their marketing efforts" says Spence Kiddle, VP Design for RichContent. "Repurposing every piece of digital content a company or ad firm has created. Optimizing and placing it where it will be seen, clicked and picked up in search results. Forever. That's enormous leverage of an ad firm's creative, and a company's advertising spend."
A recent case study on a packaged software company showed more than 400% increase in online visibility results in less than 8 weeks. Sales more than doubled. Another client launching a world-changing social cause web site sees near instant results with each RichContent broadcast. The "Content Harmony" process continues to gain momentum.
Will Marre', founder of American Dream Project and co-founder of the Covey Leadership Institute has this to say: "RichContent technology is not just a new Internet publishing tool; it's a dramatic breakthrough to give voice to ideas, services and products that can truly enrich our lives and save our future."
"We live in a time where big media budgets determine who gets heard and what brands get attention. RichContent has the potential to change that. Now, small voices with great ideas can be amplified and focused for maximum impact."
"Products that help heal our world or provide hope to the hopeless can find "shelf space" in our store of attention. RichContent is the great leveler. If you stand for something that matters, this is how to tell the whole world" quotes Marre'.
RichContent is optimizing and broadcasting content for a 3-time Inc. 500 building products company, a mid-sized foreign language teaching firm, a museum design firm and a company specializing in fast-cleaning paint brushes. A fast-growth industrial design firm, online lead generation company and a manufacturer are more examples of companies looking to augment their marketing efforts with Permanent Media Placement through RichContent.
"Reach is important, but online visibility means much more than reach. Gaining real presence on the web means understanding every nuance of how your message is viewed by visitors, search engines, social media services and your customer," says Mr. Effinger. "Align every element of your media, get it talking the same language in terms of how the web and humans view it, and you have the start of a winning campaign. A few nuanced enhancements to your media and over time you can own your corner of the web."
Or many corners, if the company sees their business plan fully realized.
"Our platform does some very cool heavy lifting in terms of gathering, optimizing delivering and measuring each broadcast" says Mr Kiddle. "But there are certain creative and social media aspects to the web that simply require skilled people to handle. We thought it might be a challenge at first, but we now consider our human editorial processes to be one of our greater strengths. We think of things computers and software might miss."
Once a broadcast is completed, clients have a Dashboard to monitor results for each broadcast. From the dashboard they can also leave a comment for the editorial staff to tweak the broadcast and enhance results even further. From total traffic to actual web-site visits and even sales, the RichContent Dashboard helps clients manage long-term campaign results.
"It's really fairly simple: do a search for your brand, product or some phrase clients use to find you. Now, add a few hundred to a few thousand results to that number every broadcast, all coming from credible, high-traffic and permanent sources. That's what client's can expect from a RichContent broadcast campaign" says Effinger.
RichContent Corporation is located in Blaine, Washington and can be reached at http://www.RichContent.com and 360-312-4312.
About RichContent:
RichContent Corporation is a content and media broadcasting platform for improving online results. Founded in 2003, the firm is headed by a serial entrepreneur who has founded 12 companies since 1986, taken one to Inc. 500 status and consulted to hundreds of technology, internet and marketing firms in the US. The founders have held management positions at O'Ryan Industries, Eclipse Technologies, J.Stream, QuickyMart, ExitPath, eAgency, TechCoast.com, Trikke, and held board positions in a number of fast-growth technology and media firms. The company can be reached at http://www.RichContent.com. The media broadcast platform can be seen at http://www.RichContent.tv. Phone: 360-312-4312. Address: 9734 Lincoln Lane Blaine, WA 98230.
# # #