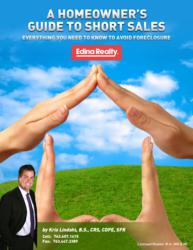 "If they do not extend the 2007 Mortgage Debt Relief Act," Kris Lindahl explains, "the losses for homeowners will be substantial. In some cases, this can add a couple $100,000 in extra income for homeowners to report on their taxes."
Richfield, MN. (PRWEB) October 08, 2012
"The 2007 Mortgage Debt Relief Act is set to expire at the end of 2012, so many people are scrambling to hurry and get their short sales in before it expires," Kris Lindahl the Richfield Short Sale Agent says, and adds "in other words with 2007 Mortgage Debt Relief Act allows an exemption so taxes will not be owed on the deficit. That is why I published a report that explains how the 2007 Mortgage Debt Relief Act Extension could save homeowners 1000's of dollars."
Kris Lindahl, the #1 Edina Realty short sale agent explains that the "2007 Mortgage Debt Relief Act" forgives the debtor the amount between what is owed on the mortgage, and the amount collected from the short sale of the home. For example," Kris Lindahl adds, "if the mortgage is $500,000, the home short sale amount collected by the bank is $400,000, and the bank waives the difference of $100,000 that was not collected, that $100,000 is considered taxable income for the homeowner, which will greatly increase the amount of taxes they owe. The 2007 Mortgage Debt Relief Act provides an exemption for the $100,000 as taxable income for the homeowner."
Kris Lindahl feels the 2007 Mortgage Debt Relief Act will get extended, but does not know if it will happen in an election year. The short sale agent Kris Lindahl explains that, "the biggest concern is that it is an election year, and does not know if either side will take a stance, or not."
One attempt was presented by Democratic Senator Debbie Stabenow of Michigan who proposed to extend the bill through 2013. Another attempt was made with a house bill sponsored by Republican Tom Reed of New York, who also wanted to extend it for 1 year. The third attempt was by Democratic Representative Charles Rangel of New York proposed a 2 year extension.
"If they do not extend the 2007 Mortgage Debt Relief Act," Kris Lindahl explains, "the losses for homeowners will be substantial. In some cases, this can add a couple $100,000 in extra income for homeowners to report on their taxes."
"Congress is receiving pressure from the National Association of Realtors, attorneys, accountants, and homeowners, which are all placing pressure on Congress to get this Mortgage Debt Relief Act extended as soon as possible," Kris Lindahl, the experienced Richfield short sale agent explains.