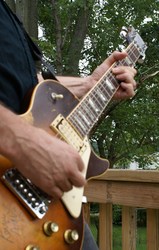 St. Louis, Mo (PRWEB) February 27, 2009
Richie Callison, former Lead Vocalist with Geezer Butler (of Black Sabbath), impacts radio with "Wrong Place Wrong Time". The full length release is set to follow in June.
The first single from Richie's self-titled Clearview Records release is currently streaming at http://www.myspace.com/richiecallison
A native of St. Louis, Mo. USA, Richie developed a unique vocal, guitar and songwriting style early in his career. This emanates from the rich plethora of English and American music that saturated the airwaves of his youth. After two solo records and numerous concert dates sharing the stage with the likes of AC/DC and Black Sabbath, Richie was recruited by Geezer Butler (Black Sabbath) to front his newly formed band. The ensuing recordings and tour garnered Richie a reputation as a world class singer-songwriter-frontman. When Geezer re-united with former bandmate "Ozzy Osbourne", the band folded and Richie left England to front the newly formed Los Angeles band "River Dogs" (Epic Records).
Upon Richie's departure from Riverdogs, the band would be headed up by "then producer" Vivian Campbell (Dio-Whitesnake-Def Leppard). Shortly thereafter, Richie was summoned back to St. Louis to handle the Lead Vocal and Lead Guitar position for "Head East". However, it became clear after numerous attempts to revive the band's career, that Richie would leave Head East to record his new record.
The results have been astounding! Richie's fresh, high energy solo release for Clearview Records evokes a raw, emotional sound that is powerful yet melodic. Richie's vocals have drawn comparisons to some of the greatest singers in rock music. The songwriting is contemporary, yet has the timeless quality of great classic songs, culminating with a guitar driven, hard rock production that never gets tiring. The record is slated for a June 2009 release, with tour dates to follow.
Select singles from Richie's self-titled record, are currently available on iTunes and other on-line music outlets.
For a complete press kit, contact Michael Thomas. email clearviewrecords (at) yahoo (dot) com
###