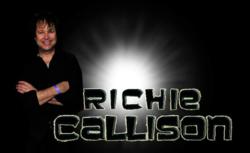 Richie Callison is one of the most talented artists I've heard in ages. Featuring his music on my radio show has generated requests for his music from listeners in South Africa as well as worldwide! Leon Economides, Mix 93.8fm Johannesburg, South Africa.
Los Angeles, CA (PRWEB) December 19, 2011
Richie Callison, former lead vocalist for Geezer Butler of Black Sabbath, releases the promotional video for the track "Crazy Woman" the latest single from his 2010 self-titled CD on the Clearview Records label.
The video was shot on location in Los Angeles, Ca. and features a cameo appearance by famed Rock Music Journalist, Lonn Friend.The video was directed and produced by Evelyn Vaccaro of Vaccaro Productions, and edit by Trey Lindsay of MoonDog Pictures.
http://www.youtube.com/watch?v=zN68tV2SQ2A
The video is loosely based on a real life scenario featuring Kristan Novak as the "Crazy Woman," while Mindy Robinson plays the "new" love interest. Crazy Woman is the third and final single to be released from Richie's 2010 self-titled CD. A new CD is currently in the works and is slated for release in the spring of 2012. The track "I got time" from the forthcoming Cd has been made available for download.
You can get a preview of the new CD at:
https://www.facebook.com/pages/Richie-Callison/297897805836?sk=app_96687436973
The new CD promises to deliver the same raw, blues based hard rock as the 2010 release, with a new rock progressive edge to it. The next video slated for release in 2012, will be for the first single from the new album, titled "Easy on the Eyes." Some additional track titles include: "Forever," "Walk a mile" and "River of tears" among others. Previous video releases include the 2010 "Run back" video:
http://www.youtube.com/watch?v=dTy7fHeCveM
Additional cast members include , Ed Callison, Bobby Boos, Rose Azarte, Catherine Warner, Evelyn Vaccaro, Katy Dolle, Savanah Ward, Abbey Steidinger, Melody Mirage and Irene Ih.Curtis Marzinzik served as assistant director. The director of photography was Braden Duemmler, with camera crew support from Steve Schnookenhemer, Grant Babbit, Steve Snyder, Mario Rodriguez and Robert Whiskey. Underwater camera work was performed by Scott Sheppard. Production design by Ellie Del Campo. Make up Jessica English, Lisa Kalz and Rosa Osvaldo Arias. Catering was provided by Hirai Hiroe and production equipment provided by Ski'ter Jones. Additional footage was shot at 24 Plus Recording Studios, St. Louis, Mo.
https://www.facebook.com/pages/24-Plus-Recording-Studios/117763061624691?sk=info
# # #