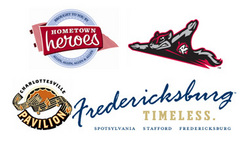 Allen & Allen has had the pleasure of working alongside hometown heroes for the past 100 years
Richmond, VA (PRWEB) April 19, 2010
The personal injury law firm of Allen, Allen, Allen & Allen announced today that it is seeking 100 Hometown Heroes in honor of the firm's one hundred year anniversary. In celebration of its centennial, Allen & Allen is applauding Virginians – and the many hometown heroes that give back to their community on a daily basis.
"Our firm was founded on service. The past 100 years are a result of the motivation we receive from those in the community, the real heroes," said Douglas A. Barry, President. "As Allen & Allen celebrates its one hundred year anniversary, we are thankful for the people who make up the communities we serve and for the everyday heroes who make Virginia a great place to live."
Nominations for the 100 Hometown Heroes campaign will be accepted from April 19, 2010 to May 7, 2010. The public is asked to visit http://www.allenandallen.com/hometown-heroes.html, to complete a short nomination form. "We want to hear about the people who have made a difference in our community and in the lives of those around them," said Courtney Allen Van Winkle, Partner.
The law firm of Allen, Allen, Allen & Allen will announce the 100 Hometown Heroes on June 15, 2010. Finalists will be honored at a series of award events taking place in Richmond, Fredericksburg, and Charlottesville. A final All Star event will be held on August 25th at a Richmond Flying Squirrels baseball game, at which time all 100 Hundred Hometown Heroes will be recognized.
"Allen & Allen has had the pleasure of working alongside hometown heroes for the past 100 years," said R. Clayton Allen, Partner, "We've witnessed firsthand the everyday heroism found in our community and want to say thank you."
About the Firm:
Allen, Allen, Allen & Allen is one of the oldest and largest law firms in Virginia limiting its practice to personal injury. In business for 100 years, the firm currently has 22 attorneys who handle death cases as well as personal injury cases involving motor vehicle accidents, tractor trailer accidents, brain injury, medical malpractice, product liability and more. Allen & Allen has eight offices located throughout Virginia in Richmond, Petersburg, Fredericksburg, Mechanicsville, Short Pump, Chesterfield County, Garrisonville, and Charlottesville.
###