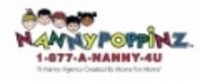 RICHMOND, Va. (PRWEB) January 14, 2008
We provide full-time, part-time, live-in, live-out and temporary nannies, newborn assistants, mother's helpers, tutors, housekeepers, personal assistants, cooks, etc. We offer just about any type of service you need for your children. Just ask and we will do our best to fulfill your needs. Whether your needs are immediate, or for a few months down the road we are here at your beck and call.
Nanny Poppinz(TM) originated in Florida in 1992 and has maintained its high standard in nanny care and customer service throughout. Our mission is to maintain the same high standards with our Richmond families. Franchise owner Kathy Worley and her team are committed to making your child-care decisions an easy process. As you may well be aware until now finding high quality child care tailored to your specific needs could be a tedious and overwhelming experience.
We are looking very forward to providing our Virginia families with customized service. Nanny Poppinz(TM) is the only NATIONWIDE Nanny Agency open for you 24 hours a day 7 days a week, including all holidays! We will never ask families for any fees up-front, plus our rates are competitive, simple and very easy to understand. For further information on the wide range of services available, please visit us at http://www.nannypoppinz.com/richmondva or call Kathy at 804-360-9422. We are looking forward to serving you!