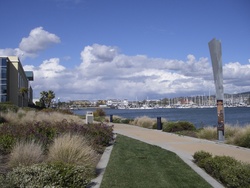 Ultimately the wireless technology will allow us to get video directly to officers out in the field
BOCA RATON, Fla. (PRWEB) February 25, 2008
"We are looking for this system to help deter crime and prosecute criminals," said Ed Medina, Richmond deputy police chief. "The response from the public to the announcement of the cameras has been very positive and everyone is looking forward to a safer community."
The three-year contact with ADT involves the installation and maintenance of 34 cameras in high crime areas, including unincorporated parts of North Richmond. The contract for the Port calls for the installation and maintenance of 82 cameras around the Port of Richmond. The systems will be paid for by the City of Richmond, the North Richmond Waste and Recovery Mitigation Fund and the U.S. Department of Homeland Security.
Installation of the new systems is expected to be completed by April 2008. System software can be programmed to enable the cameras to recognize and record certain activity in a location, which can help law enforcement identify the occurrence of criminal conduct, such as someone painting graffiti on a wall or dumping trash and garbage in unauthorized areas. It also provides for maximum flexibility by allowing cameras to be easily repositioned on a wireless mesh network. In addition, the technology offers system reliability as the information travels across nodes, or relays, until it reaches its destination. Should any node fail, the system has the capability to enable other nodes to take over and complete the transmission.
"New, proven wireless mesh technology makes this type of video security system not only practical, but also a real tool for increasing public safety," said John Koch, president of ADT North America. "We believe that the City and Port of Richmond are taking a leadership role by using this technology and that other city and local governments will soon follow."
The new camera system will have a big impact on the city, according to Richmond City Manager Bill Lindsay.
"The City of Richmond's alliance with ADT for cutting-edge technology will transform how we do business in Richmond," he said.
A second phase of the project is already in the planning and engineering phases and will include transmitting video directly to Richmond police patrol cars giving officers the ability to view crime scenes remotely and obtain critically important information before they arrive at the scene.
"Ultimately the wireless technology will allow us to get video directly to officers out in the field," said Medina. "That means officers could have a real idea of the situation and what they are walking into before they arrive."
With a population of approximately 103,000, the City of Richmond is located 16 miles northeast of San Francisco on a peninsula separating San Francisco Bay and San Pablo Bay. The city boasts one of the largest shipping ports for liquid bulk and automobile tonnage among all the ports on San Francisco Bay.
About ADT Security Services
ADT Security Services, a unit of Tyco International, is the largest provider of electronic security services to nearly six million commercial, government and residential customers throughout North America. ADT's total security solutions include intrusion, fire protection, closed circuit television, access control, critical condition monitoring, electronic article surveillance, radio frequency identification (RFID) and integrated systems. ADT's Web site address is http://www.adt.com/.