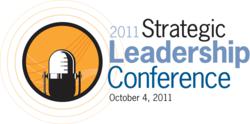 Richmond, VA (PRWEB) September 19, 2011
The second annual Richmond SHRM Strategic Leadership Conference will take place at the Greater Richmond Convention Center on Oct. 4, 2011, from 7 a.m. to 5 p.m. Human resources professionals from around the region are invited to attend to further their education in the field and earn HRCI Strategic Business Credits. More information or registration forms can be found online at RichmondSHRM.org.
The conference will feature programs on leadership and strategy, as well as provide networking opportunities and a vendor exhibition hall. Conference programs have been approved for seven strategic business credits towards re-certification of a PHR, SHPR or GPHR certification. The cost is $200 for Richmond SHRM members, or $300 for non-members.
"Continuing education in HR is always a priority of Richmond SHRM," said Nancy Brooking, President of Richmond SHRM. "Since there is not a state conference this year, this is an opportunity for HR practitioners throughout the Commonwealth of Virginia to gain the credits necessary for re-certification."
Key speakers at the conference include:

Jack Harsh, CEO, "The Growth Coach"
Alma Hughes, Vice-President, Executive Coach, Lee Hecht Harrison
John Martin, CEO, Southeastern Institute of Research
Michelle Braden, CEO, MSB Coach
Doug Layman, Executive VP & CSMO, Gilsbar, Inc.
Scott Wayne, MA, The Frontier Project
About Richmond SHRM:
Richmond SHRM is a not-for-profit association of over 1,000 human resource professionals in the greater Richmond area representing more than 800 businesses. Formed in 1958, Richmond SHRM is an affiliate of the national Society for Human Resource Management (SHRM) and is one of the largest chapters in the country. Our chapter has been awarded the Superior Merit Award every year since 1991. We promote professionalism, effectiveness, and understanding in the Human Resource Management field by offering members a wide variety of professional development opportunities and a common forum for sharing ideas and experiences.
###