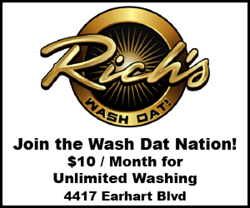 This is the largest car wash New Orleans has ever seen.
New Orleans, LA (PRWEB) November 21, 2014
Rich's Wash Dat is a new locally owned business set to open Wednesday, November 19th. Rich's features the largest conveyor-run express car wash in the New Orleans area and has 28 shaded vacuum lanes for customer use. The main wash feature is NOLA's first "Buff n Dry" polishing system. Pure Simoniz Carnauba wax is applied during the wash process and is "buffed" by spinning polishing brushes leaving your car with an unbelievable shine.
Wash packages include individual washes as well as the "Wash Dat Nation", an unlimited wash club. Included with any wash is free use of the covered vacuum lanes and bug prep stations to allow customers to scrub off excess road grim and bug residue prior to entering the wash tunnel.
Rich's Wash Dat is a community minded business and will be donating 20% of all Holiday gift card sales to local New Orleans charities to show appreciation for their efforts.
Rich's Wash Dat is located at 4417 Earhart Blvd (between Jeff Davis and Broad Street) They can be reached by phone at 504-218-8249.