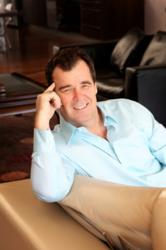 ...hundreds of thousands of hard working Australians are being locked out of the market because of stricter lending practices and high property prices
Sydney, Australia (PRWEB) September 20, 2011
While current Australian mortgage holders breathed a sigh of relief when the Reserve Bank kept interest rates on hold for September 2011, even the International Monetary Fund (IMF) believes rates must rise in coming months. For creative property investment strategist, Rick Otton, such uncertainty illustrates perfectly why people are now looking beyond traditional lenders when considering property options.
For years Mr Otton has been employing strategies, that he devised, for buying properties for a dollar, with no bank loans and not a lot of cash. And he has taught over 30,000 students to do the same.
"Our banking system is not what it used to be." explained Otton. "It is only a few short years ago that banks would lend us money for whatever we wanted."
Creative Investing In Property Australian Style
The global financial crisis, and an ongoing challenging financial climate, Mr Otton believes, has seen traditional lenders close their doors to many aspiring investors. But, he says, it is from challenges such as these that innovation emerges.
"When I first developed my 'no money down' property buying strategies, it was in the USA in the middle of the Savings & Loans crisis in the 1980s. The banks stopped lending, and I wanted to buy - so I embraced the adage that 'necessity is the mother of invention' and devised my rent to by strategy" he explained.
His 'how to options' translate particularly well to the Australian property investment situation, which has for years been at the mercy of traditional lenders.
"There is a surplus of property Australian investors can access, but I see that hundreds of thousands of hard working Australians are being locked out of the market because of stricter lending practices and high property prices." said Mr Otton.
"There are big changes in property acquisitions taking place all around the world, including Australia, and I am looking forward to teaching others how, by using my strategies, they can become property owners, by working within the rules of loans that already exist."
Members Forum - Australian Property Investing Information Exchange
Mr Otton has now created his Fast Property Training - a members only Forum to facilitate the learning of his methods, and information exchange between members who are successfully implementing these methods.
Register now for just one dollar at http://www.fastpropertytraining.com.au
About Fast Property Training
Fast Property Training is Australia's exclusive members-only property training forum created by Rick Otton. Its aim is to demonstrate to members how to easily unlock the property investment market regardless of how much or little they earn. It includes access to over 30 training videos and webinars on topics including – putting together high profit transactions, finding buyers and sellers quickly and ethical persuasion skills.
More details are available at fastpropertytraining.com.au
About Rick Otton
Rick Otton is an original pioneer of creative property strategies. He is founder and CEO of We Buy Houses, a leading property enterprise which operates in the property markets of the United Kingdom, New Zealand, USA and Australia.
In 1991 he uncovered an innovative strategy of buying and selling real estate and went on to amass a portfolio of 76 properties in his first twelve months of active investing.
Since 2001, Rick has taught over 30,000 students to buy, sell and trade residential property without banks, debt or risk. By employing these same strategies many of Rick's students have made over a million dollars a year in cash and equity, using little or none of their own money, year after year.
In 2008 Rick revealed his strategies in the United Kingdom and became the creator of 'Houses for a Pound'.
He has appeared in the following Australian TV programs: 2004 ABC documentary 'Reality Bites' and on Today Tonight, Insight and A Current Affair. In October 2007 Rick gave a way a house on national TV during 2 episodes of Channel 9's Hot Property.
Rick Otton has also been featured in Your Property Network, Australian Property Investor, Lifestyle Trader Magazines and in the books: The Secrets of Property Millionaires Exposed!, Ideas: Original Perspectives On Life and Business From Leading Thinkers, Think and Grow Rich in Property, Insider Property Secrets, and Walking With The Wise.
###