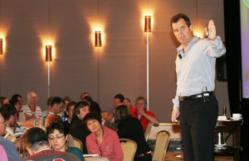 For people who entered into home loan agreements with very small deposits, drops such as these could lead them into an upside-down loan situation
(PRWEB) July 25, 2012
For home owners or investors who have borrowed a substantial part of their homes' values, falling property values can create real financial challenges, believes property investment expert, Rick Otton. In a series of forthcoming free seminars, under the 'How To Buy A House For A Dollar' banner, he is sharing his innovative strategies that help both buyers, sellers and investors in just such a market.
Earlier in 2012, Mr Otton published his property book for Aussies, 'How To Buy A House For A Dollar', in which he took readers step by step through several of his strategies for buying and selling houses - whatever the economic climate. His free one day seminars, to be held in Victoria, New South Wales and Queensland throughout August 2012, will discuss those strategies in greater depth, in an environment that encourages feedback and networking.
"The RP Data figures show that home values in Melbourne have dropped by 8.4 percent, and in Brisbane, by 6 percent" said Mr Otton. "For people who entered into home loan agreements with very small deposits, drops such as these could lead them into an upside-down loan situation, where the value of the home is less than the outstanding home loan debt."
Should the owners need to sell urgently, for any number of reasons or circumstances, they may find that even after divesting themselves of the property, they are still in debt to their lender.
"Refinancing can also be challenging as a result of a tightening of the lending market" continued Mr Otton. "The strategies that I have developed over the last 30 years, are perfect for just this scenario, and I am really please to be able to share them in my 'How To Buy A House For A Dollar' free seminars."
The real estate investment seminar events are being held in Melbourne, Preston, Sydney, Parramatta and Brisbane. For dates and locations visit HowToBuyAHouseForADollar.com/register
About Rick Otton
For more than 20 years, Rick Otton has been identifying undervalued assets in the real estate market, snatching them up and selling them to build wealth. Otton is the founder and CEO of We Buy Houses, an innovative property firm that has been successfully employing his strategies in the U.S., U.K., Australia and New Zealand.
Otton formulated his strategy in the early 90s and within his first year of real estate investing acquired a portfolio of more than 75 properties. Since then, Otton has made millions in the real estate market, generating huge profits with little risk to his own capital.
Today, Otton is teaching Aussies how to enjoy the same success he has had, buying and selling residential real estate without the debt, risk and reliance on bankers that plague many conventional real estate investors.
Otton has been featured on a variety of Australian TV shows, including an ABC documentary, Today Tonight, A Current Affair and Insight. In 2007, Otton was featured on Channel 9's Hot Property, and gave away a home.
In addition to his television appearances, Otton has also been profiled in publications such as Australian Property Investor, Lifestyle Trader and Your Property Network, among others. You can learn more about Otton and his innovative investment strategies by visiting RickOtton.com.
Information on his free one-day seminars is available now at http://www.HowToBuyAHouseForADollar.com/register