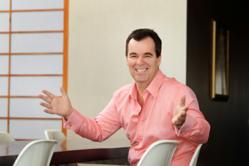 For far too long people have been disenfranchised through the traditional home buying process - through laws and restrictions that were put in place decades, sometimes centuries ago
London, England (PRWEB) February 15, 2012
Over the last 25 years Rick Otton has established himself as an innovator in the international property investment sphere. His teachings have been embraced in the US, Australia and New Zealand for decades, and since 2008 in the UK. To build upon his 'buy a house for a pound' strategy, Mr Otton has just announced his London Property Superconference.
In preparation for the Superconference, Mr Otton recently conducted a webinar, the recordings of which are now available, for free, to those in the UK who are anxious to develop systems for creating progressive property portfolios.
Designed to build on the 'buy a house for a pound' concepts that he first introduced to the UK in 2008, Mr Otton explains how to increase the value of a property by changing the financial structure of home ownership. He discusses how working with remortgage paperwork is so much simpler than taking out a loan, and how rethinking the loan process takes the control of home ownership out of the hands of the traditional lenders, i.e. the banks.
"For far too long people have been disenfranchised through the traditional home buying process - through laws and restrictions that were put in place decades, sometimes centuries ago" said Mr Otton.
He continued "These rules have made it almost impossible for the self-employed, low income earners and those with a poor credit history, to become homeowners. My strategies show them another way to work within the law, yet without adhering to the banks' lending criteria."
In the newly released webinar recording, Mr Otton, reveals common misconceptions about home buying - and not only discusses how his alternatives work, but the psychology and language needed to make it happen.
"My UK students who have embraced my strategies have taken the progressive property purchase approach, and now own several - without having a hefty deposit or having to prove income" said Mr Otton. "And in the London Property Superconference we reveal exactly how property purchase the Rick Otton way works, and how everyday people can use it.
The webinar and London Property Superconference information are available now at http://www.rickotton.co.uk/bigpropertylie/part1/
About Rick Otton
Entrepreneur, Author, Speaker and Property Coach
Rick Otton is a self-made multi-millionaire and real estate consumer advocate, property investor and business owner.
He is the founder and director of We Buy Houses Pty Ltd, a leading property enterprise which has successfully expanded into the international markets of Australia, United Kingdom, New Zealand and USA.
In 1991, Rick Otton uncovered an innovative strategy of buying and selling real estate and went on to amass a portfolio of 76 properties in his first 12 months of investing. Rick buys, sells and trades property, using little or none of his own money, and structures transactions to create positive cash flow.
Since 2001, Rick has taught nationally and internationally over 35,000 students how to buy, sell and trade residential property without getting bank loans or acquiring debt, using little cash and minimising risk.
Many of Rick's students have been able to create wealth, buy their first home, restructure a negatively geared property to make it cash flow positive and build their property portfolio year after year.
Rick's mission is to transform the way people buy and sell property - to empower others with the knowledge there is another way. He regularly meets with leading government officials who seek his advice on solving the housing affordability crisis.
His philosophy has been highlighted in various Australian TV shows. He appeared in the ABC documentary 'Reality Bites' as well as 'Today Tonight' and 'Hot Property'.
Rick has also been profiled in numerous national and international magazines and books as he shows everyday people how to create wealth in real estate, without bank loans or saving large deposits.
Learn about Rick Otton's London Property Superconference at http://www.rickotton.co.uk/bigpropertylie/part1/
###