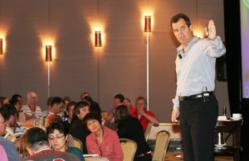 I always knew I wanted to be an entrepreneur and do my own thing. That's why I decided to learn more about Rick's strategies
(PRWEB) January 08, 2013
Many property investor hopefuls falter when it comes to the thought of pulling together the necessary finance, but Australian property investment strategist, Rick Otton, has revealed that his unorthodox techniques have worked for many of his students, no matter what their material, or life, circumstances.
In his regular Creative Real Estate podcast, Mr Otton said the key to clinching property deals was to know which method to pull out of his toolkit.
Mr Otton is internationally known for his out-of-the-box strategies which coach investors on 'How to Buy a House For a Dollar' without the need for banking finance or involvement. He believes negative gearing and equity have failed to deliver returns for Australian property investors and that the way of the future lies in innovation.
"I get asked all the time, 'What if the market gets quiet? What if it's a boom market?'. It doesn't matter what the market does because it's about bringing a different tool out of the toolkit to apply to each situation," he said.
Creative Strategies for Different Markets
In the podcast, student Tim described how he, at the tender age of 20, jumped in at the deep end by making his first property deal using Mr Otton's Creative Real Estate strategies. The business/commerce graduate has since left his job as a financial planner at a top bank to become a full-time real estate entrepreneur – and has never looked back.
"I always knew I wanted to be an entrepreneur and do my own thing. That's why I decided to learn more about Rick's strategies," Tim said.
"For me, the biggest thing Rick taught me was that you don't have to get a loan to buy a house. You can use a lease option or instalment contract, you can do joint ventures with other people or you can buy a house with $1 using other people's loans. There is always a way to do the deal. It doesn't matter whether you're bankrupt, have a job or no job."
The Art of Building Relationships
Mr Otton explains in the podcast that one of the driving factors behind making successful property investment deals lay in the art of relationship building with the necessary people.
"If you meet a real estate agent and talk about all your strategies and tool sets, his eyes are going to glaze over and he's not going to get it. You've got to master the skill of speaking to buyers and sellers, but the relationship has to always come before the strategy," Mr Otton said.
The free full podcast can be heard on iTunes at Creative Real Estate
About Rick Otton
Rick Otton has spent decades making money by snapping up inexpensive real estate and putting it to work building wealth. Now, he's teaching other Aussies how to do the same. He is the founder and CEO of We Buy Houses, which operates in the U.S., U.K., Australia and New Zealand putting his strategies to work every day.
Otton got his start in alternative real estate investment in 1991 and within a year acquired 76 properties. In years after, he made a fortune using his low-risk, high-reward strategies to inexpensively acquire real estate.
Now, Otton wants to share the wealth by sharing the wisdom, teaching us how to buy and sell real estate without cutting banks and other middlemen in on the deal.
Otton has been featured in a variety of television programs and magazines, including Today Tonight, A Current Affair, Australian Property Investor and more.
You can learn more about Otton and how to invest in residential real estate without using banks at RickOtton.com
The full podcast can be heard at CreativeRealEstate.com.au