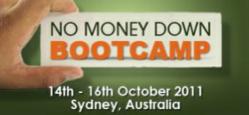 All around the world there are big changes in how property is purchased, including in Australia
Sydney, Australia (PRWEB) September 13, 2011
Rick Otton has been investing in property in Australia and overseas for decades, and throughout this period has developed and proven a unique 'No Money Down' strategy that takes control of property purchases out of the hands of traditional lenders. It is these property options that he will be sharing at his just announced live and intensive 3 day Sydney bootcamp.
"There is no doubt that the banks have tightened the reins on mortgage lending" said Mr Otton. "And this has made it virtually impossible to secure a home loan without a hefty deposit."
But people, he believes, need to rid themselves of the belief that the only way to invest in property is to go cap-in-hand to a bank.
"All around the world there are big changes in how property is purchased, including in Australia. I am very much looking forward to teaching others how to use my strategies to become property owners, using rent to by techniques and working within the rules of loans that already exist."
Otton began investing in real estate in the USA in the 1980s - in the middle of the Savings & Loan crisis. It was because he was unable to secure a loan from traditional lenders, that he was inspired to look at alternative ways of purchasing property. He has subsequently taught thousands of others to use his strategies to become home owners.
The No Money Down Bootcamp
Rick Otton has just revealed the dates for his No Money Down Bootcamp for Sydney: 14-16 October 2011, and he is quite clear about what the Bootcamp is NOT -

It is not about doing renovations
It is not about buying off the plan
It is not about negative gearing
It is not about buying commercial property
Rather, he explains, it will reveal options to purchase property Australian home-seekers rarely consider. He will show, step-by-step, exactly how he purchases houses for no money down, and how those present at the Bootcamp can do the same, regardless of their age, sex or income level.
Full details about the No Money Down Bootcamp are available now at http://www.rickotton.com/bootcamp
About The No Money Down Bootcamp
The No Money Down Bootcamp is being held in Sydney, Australia, from 16-18 October, 2011. It is a 3 day intensive training on innovative rent-to-buy strategies developed by creative property developer, Rick Otton.
About Rick Otton
Rick Otton is an original pioneer of creative property strategies. He is founder and CEO of We Buy Houses, a leading property enterprise which operates in the property markets of the United Kingdom, New Zealand, USA and Australia.
In 1991 he uncovered an innovative strategy of buying and selling real estate and went on to amass a portfolio of 76 properties in his first twelve months of active investing.
Since 2001, Rick has taught over 30,000 students to buy, sell and trade residential property without banks, debt or risk. By employing these same strategies many of Rick's students have made over a million dollars a year in cash and equity, using little or none of their own money, year after year.
In 2008 Rick revealed his strategies in the United Kingdom and became the creator of 'Houses for a Pound'.
He has appeared in the following Australian TV programs: 2004 ABC documentary 'Reality Bites' and on Today Tonight, Insight and A Current Affair. In October 2007 Rick gave a way a house on national TV during 2 episodes of Channel 9's Hot Property.
Rick Otton has also been featured in Your Property Network, Australian Property Investor, Lifestyle Trader Magazines and in the books: The Secrets of Property Millionaires Exposed!, Ideas: Original Perspectives On Life and Business From Leading Thinkers, Think and Grow Rich in Property, Insider Property Secrets, and Walking With The Wise.
For details about the No Money Down Bootcamp visit http://www.rickotton.com/bootcamp.htm
###