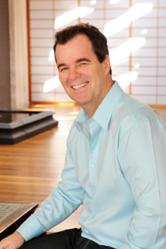 The concept of buying and selling real estate without having to approach the banks is not new
(PRWEB) January 30, 2013
Australian property investment strategist, Rick Otton, has long been sharing his unique set of Creative Real Estate strategies with investors worldwide. His students, he says, have become successful by abandoning traditional property investment strategies and making radical shifts in their mind sets. Now, in a new addition to his regular Creative Real Estate podcasts, Mr Otton reveals for the first time how his strategies can work just as powerfully alongside some of the more 'traditional' investment techniques.
"I see a lot of investor renovators and developers using my toolsets because there's been a shift in the market. They buy properties to sell them, but the old processes aren't working for them anymore in the new regime. After coming to my classes, they just plug my strategies into what they're already doing," he said.
Mr Otton has long been regarded as an innovator in the real estate investing field, and his creative strategies for buying and selling properties without bank involvement are perhaps what he is best known for.
"The concept of buying and selling real estate without having to approach the banks is not new. Building development companies like Meriton have been offering vendor finance on many of their properties for decades - and there is no reason why these transactions cannot take place on an individual level" explained Mr Otton.
"Especially in challenging times like we have at present, it is important for people to understand that we don't have to be at the mercy of the banks if we wish to buy and sell houses" he said. "After all, not everyone has a hefty 20 per cent deposit saved, or an unblemished credit history required when approaching a bank for a home loan."
"My strategies have helped many people, particularly the self-employed who often struggle to meet mortgage requirements, to become home owners, and others like Kirsten, who is with us today, become even stronger players in the property business."
Complementary Investment Strategies
In the podcast, one of his students, Kirsten, explained how attending one of Otton's Creative Real Estate Bootcamps helped her to accelerate her renovate-and-sell strategy into a whole new realm of profit making, despite the 'guts being kicked out of the property investment market'.
"I basically find properties which I can buy a lot cheaper from people who are desperate to get rid of them because they can't sell them the conventional way," the NSW Central Coast resident explained.
"I renovate them quite cheaply, but give them a high-end look, and then I just sell them a little bit below market, and sell them quickly within about six weeks by offering buyers a low-deposit requirement. It's a win-win situation which resolves the gridlock between sellers who can't sell their house and the buyers who want to buy but who might not have a deposit, or who might have a small glitch in their credit history."
The free full podcast can be heard on iTunes at Creative Real Estate
About Rick Otton
Rick Otton has spent decades making money by snapping up inexpensive real estate and putting it to work building wealth. Now, he's teaching other Aussies how to do the same. He is the founder and CEO of We Buy Houses, which operates in the U.S., U.K., Australia and New Zealand putting his strategies to work every day.
Otton got his start in alternative real estate investment in 1991 and within a year acquired 76 properties. In years after, he made a fortune using his low-risk, high-reward strategies to inexpensively acquire real estate.
Now, Otton wants to share the wealth by sharing the wisdom, teaching us how to buy and sell real estate without cutting banks and other middlemen in on the deal.
Otton has been featured in a variety of television programs and magazines, including Today Tonight, A Current Affair, Australian Property Investor and more.
You can learn more about Otton and how to invest in residential real estate without using banks at HowToBuyAHouseForADollar.com
More information at CreativeRealEstate.com.au