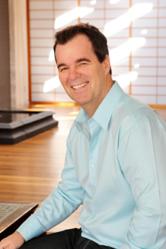 In the book I will explain why property transactions don't have to begin and end with the banks
(PRWEB) December 18, 2012
Just released, the January 2013 issue of 'Money Magazine' lists the ten most popular finance book titles released in 2012. News that the real estate investment book from property strategist Rick Otton, 'How To Buy A House For A Dollar', has been included in the list, coincides with his announcement that writing has now begun on a UK version.
The list was compiled in conjunction with one of Australia's leading booksellers, Dymocks, and included books on topics that included Superannuation, the GFC and Taxation.
"Following the release of How To Buy A House For A Dollar, we've held a series of free seminars and several bootcamps for those who'd read the book and wanted to explore its concepts in greater depth," said Mr Otton.
"Our prime objective in writing the book was to show everyday Australians that there are many ways to buy and sell real estate," said Mr Otton. "So we are, of course, delighted that a specialist financial publication like Money Magazine has recognised the books worth by including it in such a prestigious list."
How To Buy A House For A Pound
Now, Otton says, is the right time to begin writing a version for the struggling UK property market. Not surprisingly, the UK version will be entitled 'How To Buy A House For A Pound'.
"While the concepts are the same in both versions, we want to include real examples of successful transactions that have taken place in the UK, and there are many hundreds of them," explained Mr Otton. "As well, we have developed even more breakthrough strategies to share since the publication of the Australian edition."
"In the book I will explain why property transactions don't have to begin and end with the banks - and I know that once people grasp this basic precept, and begin to think creatively, they will embrace the strategies that I put before them," he continued.
Mr Otton believes that there are aspects of the traditional property system in many countries, including the UK, that are outdated, and no longer work to the advantage of the average person. The self-employed and those with a poor credit history, in particular, struggle to meet the loan requirements of the banks.
"My strategies help more people become home owners, and give sellers options to get the price they want in a challenging real estate market," said Mr Otton. "So for the Australian version of my book to be selected by Dymocks and Money Magazine as one of the best for 2012 is truly gratifying - and I expect nothing less when 'How To Buy A House For A Pound' is published."
Until that time, however, Mr Otton has a free Power Property Profits Pack, valued at over 300 pounds, now available, without any obligation, at RickOtton.co.uk
About Rick Otton
Rick Otton has spent decades making money by snapping up inexpensive real estate and putting it to work building wealth. Now, he's teaching other Aussies how to do the same.
Otton is the founder and CEO of We Buy Houses, which operates in the U.S., U.K., Australia and New Zealand putting his strategies to work every day.
Otton got his start in alternative real estate investment in 1991 and within a year acquired 76 properties. In years after, Otton made a fortune using his low-risk, high-reward strategies to inexpensively acquire real estate.
Now, Otton wants to share the wealth by sharing the wisdom, teaching Aussies how to buy and sell real estate without cutting banks and other middlemen in on the deal.
Otton has been featured in a variety of television programs and magazines, including Today Tonight, A Current Affair, Australian Property Investor and more.
Mr Otton's free Power Property Profits Pack is now available, without any obligation, at RickOtton.co.uk