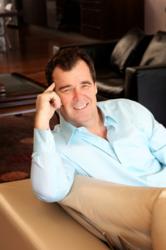 My free report gives new hope to those who want to invest in their own future.
(PRWEB) October 04, 2011
In an effort to sell his St Andrew's, Bristol, home, 61 year old Brit, Tim Mason, has taken to walking up to eight miles each day wearing a yellow sandwich-board offering a property option advocated by Australian, Rick Otton: 'rent to buy'. This concept is the subject of a free report just launched by Mr Otton.
According to a report in The Sun UK newspaper, Mr Mason has taken to the streets with his home-made sandwich board which reads 'Buy My House! 3 Bed Vic - St Andrews £390/week, No Mortgage'. Mason purchased his home five years ago, and, according to the article, has had it on the market for six months without success.
Going down the rent-to-buy path, believes property investment innovator Otton, is an increasingly popular strategy for both buyers and sellers.
In his free report 'The Big Property Lie' Mr Otton reveals how traditional lenders have continued to perpetuate the myth that in order to achieve the dream of home ownership, is necessary to kow-tow to them.
"There are other property options that work for both property sellers like Mr Mason, and for purchasers. By following my proven rent-to-buy strategies, more sellers are easing their burden of debt, and those who the banks would otherwise refuse a mortgage, are able to purchase," said Mr Otton.
"For too long people have been left out of the UK property market because they may have difficulty raising a hefty deposit, have a low credit record, or are perhaps newly arrived residents. My free report gives new hope to those who want to invest in their own future," he continued.
In The Big Property Lie, Otton covers:

His proven system for buying a house for just ONE POUND
Why an estimated 3.8 million UK home owners are now in negative equity
The BIG LIES that UK citizens have been fed by the government, the media, and the banks
How to generate a positive cash flow through property options with no cash invested, and no bank loans
Mr Otton congratulates Mr Mason on being proactive in embracing the rent-to-by strategy - his sandwich-board approach grabbed the attention of not just his local community, the wider UK community via the front page of a leading national newspaper, but the rest of the world as well via the newspaper's online issue.
"This type of publicity is given to people who put themselves out there - who dare to be different from the pack. Creative thinking like this should be applauded, and rewarded with success," said Mr Otton.
The Big Property Lie can be downloaded, free of charge, now at http://www.rickotton.co.uk/bigpropertylie/
About Rick Otton
Rick Otton is an original pioneer of creative property strategies. He is founder and CEO of We Buy Houses, a leading property enterprise which operates in the property markets of the United Kingdom, New Zealand, USA and Australia.
In 1991 he uncovered an innovative strategy of buying and selling real estate and went on to amass a portfolio of 76 properties in his first twelve months of active investing.
Since 2001, Rick has taught over 30,000 students to buy, sell and trade residential property without banks, debt or risk. By employing these same strategies many of Rick's students have made over a million dollars a year in cash and equity, using little or none of their own money, year after year.
In 2008 Rick revealed his strategies in the United Kingdom and became the creator of 'Houses for a Pound'.
He has appeared in the following Australian TV programs: 2004 ABC documentary 'Reality Bites' and on Today Tonight, Insight and A Current Affair. In October 2007 Rick gave a way a house on national TV during 2 episodes of Channel 9's Hot Property.
Rick Otton has also been featured in Your Property Network, Australian Property Investor, Lifestyle Trader Magazines and in the books: The Secrets of Property Millionaires Exposed!, Ideas: Original Perspectives On Life and Business From Leading Thinkers, Think and Grow Rich in Property, Insider Property Secret.
His free report can be downloaded at http://www.rickotton.co.uk/bigpropertylie/
###