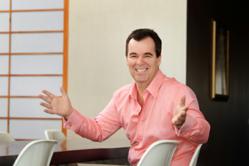 Until people move away from the idea that the only way to become a home owner is to approach a bank, they will remain disenfranchised
London, England (PRWEB) March 07, 2012
On 29 February, the Bank of England released figures showing that mortgage approvals in the UK, for January 2012, were at their highest levels since 2010. However, property investment strategist, Rick Otton, believes that the figures are more a result of buyers rushing to beat the stamp duty 'holiday' which expires on March 24, rather than a shift in the mortgage lending market.
Mr Otton in well known for his creative approach to property investment, which work outside of the traditional lending system, i.e. the banks. He believes that there will be no real change in the home ownership figures until more people look beyond the banks to alternative, and more creative, property investing strategies.
"It is hardly surprising that the big banks want to talk up any increase in the mortgage approval rate" said Mr Otton. "It is in their interests to maintain the perception that the only way to purchase real estate is through their traditional channels."
Mr Otton's rent to own and instalment contract strategies, he says, offer alternatives that the banks would prefer people did not know about.
"Until people move away from the idea that the only way to become a home owner is to approach a bank, they will remain disenfranchised" explained Mr Otton. "Having to jump through the banks' hoops - saving for a hefty deposit, passing credit checks, and proving a steady income - often leaves the self-employed, and those with little in the way of savings, with no chance of securing a loan."
"By learning and implementing the alternative property investment strategies that I teach, even those with no savings can become home owners" he continued.
His "How To Buy A House For A Pound" system, he says, is perfect for today's economy, with the investor becoming the middleman, controlling the asset rather than owning it -which involves no bank mortgage, no borrowing against an existing property, no stamp duty, deposit or liability.
Mr Otton will be sharing those strategies at his 2012 Zero Debt Property Cashflow Conference, details of which are at http://www.rickotton.co.uk/conference/
About The 2012 Zero Debt Property Cashflow Conference
The 2012 Zero Debt Property Cashflow Conference is being held in Maidenhead/Windsor in England, from 27-29 April 2012. It has been designed for everyday people who are serious about making money from property - it is not an information session.
The training includes

Three full days of intensive training from the world's leading authority on No Money Down, Rick Otton.
Live Demonstrations
Networking Opportunities
Unrestricted access to Mr Otton's Fast Property Training Members site.
Tickets to the event carry a 100% satisfaction money back guarantee.
About Rick Otton
Rick Otton is an original pioneer of creative property strategies. He is founder and CEO of We Buy Houses, a leading property enterprise which operates in the property markets of the United Kingdom, New Zealand, USA and Australia.
In 1991 he uncovered an innovative strategy of buying and selling real estate and went on to amass a portfolio of 76 properties in his first twelve months of active investing.
Since 2001, Rick has taught over 30,000 students to buy, sell and trade residential property without banks, debt or risk. By employing these same strategies many of Rick's students have made over a million dollars a year in cash and equity, using little or none of their own money, year after year.
In 2008 Rick revealed his strategies in the United Kingdom and became the creator of 'Houses for a Pound'.
He has appeared in the following Australian TV programmes: 2004 ABC documentary 'Reality Bites' and on Today Tonight, Insight and A Current Affair. In October 2007 Rick gave a way a house on national TV during 2 episodes of Channel 9's Hot Property.
Rick Otton has also been featured in Your Property Network, Australian Property Investor, Lifestyle Trader Magazines and in the books: The Secrets of Property Millionaires Exposed!, Ideas: Original Perspectives On Life and Business From Leading Thinkers, Think and Grow Rich in Property, Insider Property Secrets, and Walking With The Wise.
Full details about Rick Otton's intensive 3 Day Zero Debt Property Cashflow Conference 2012 are available at http://www.rickotton.co.uk/conference