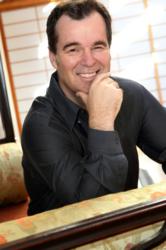 I encourage anyone who is even remotely interested in becoming a property investor in the UK .... to be sure to be on the mailing list
(PRWEB) May 08, 2012
For over 10 years Rick Otton has been teaching his creative real estate investment techniques to audiences around the world. His most recent event, a 3 day Bootcamp in the UK was completely sold out - a situation helped along by past students sharing their success stories.
The "Zero-Debt Property Cash Flow Conference 2012" was held at the Holiday Inn, Maidenhead, and saw Mr Otton demonstrate how anyone can use his easy-to-copy system for buying a house for a pound - and profit - even while the economy continues to challenge most investors.
"I was, of course, delighted to find that the conference was fully booked" said Mr Otton. "And I acknowledge the role that my past students played in creating this success. They have embraced my concepts, learned to turn the tables on the traditional lenders, and, like me, they want others to learn how to profit from learning and implementing my strategies."
Over the three days of the event, delegates learned how anyone can implement Otton's system to buy a house for a pound, again and again, and to profit while economy continues to decline.
That the bootcamp was fully booked is testament to its being a rare opportunity to learn, face-to-face from Rick Otton. The "Zero-Debt Property Cash Flow Conference 2012" was not a multi-speaker event, but three full days of tuition from Mr Otton, who is widely regarded as the most innovative property investment strategist in the world.
The Zero-Debt Property Cash Flow Conference was the only one to be held in the UK in 2012, but plans are afoot for another in 2013.
"I encourage anyone who is even remotely interested in becoming a property investor in the UK, to get in touch with our UK office to be sure to be on the mailing list" advised Mr Otton. "Booking early will be imperative, and pre-registration is open now at  http://www.rickotton.co.uk/conference/ ."
About Rick Otton
Rick Otton is an original pioneer of creative property strategies. He is founder and CEO of We Buy Houses, a leading property enterprise which operates in the property markets of the United Kingdom, New Zealand, USA and Australia.
In 1991 he uncovered an innovative strategy of buying and selling real estate and went on to amass a portfolio of 76 properties in his first twelve months of active investing.
Since 2001, Rick has taught over 30,000 students to buy, sell and trade residential property without banks, debt or risk. By employing these same strategies many of Rick's students have made over a million dollars a year in cash and equity, using little or none of their own money, year after year.
In 2008 Rick revealed his strategies in the United Kingdom and became the creator of 'Houses for a Pound'.
He has appeared in many Australian TV programs including the 2004 ABC documentary 'Reality Bites' and on Today Tonight, Insight and A Current Affair. In October 2007 Rick gave a way a house on national TV during 2 episodes of Channel 9's Hot Property.
Rick Otton has also been featured in Your Property Network, Australian Property Investor, Lifestyle Trader Magazines and in the books: The Secrets of Property Millionaires Exposed!, Ideas: Original Perspectives On Life and Business From Leading Thinkers, Think and Grow Rich in Property, Insider Property Secrets, and Walking With The Wise.
In May 2012 Mr Otton's book "How To Buy A House For A Dollar" was published.
More information, including testimonials from real students, is available at http://www.rickotton.co.uk