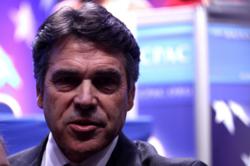 The Perry brand is about to implode
Northbrook, IL (PRWEB) September 07, 2011
While Rick Perry struggles to explain away how he could have supported Al Gore for president, Revolution PAC notes another problem has surfaced for the Texas governor: a letter he wrote to Hillary Clinton, then First Lady, calling her efforts to establish national health care "most commendable."
"Your efforts are worthy," Perry further told Hillary.
"The Perry brand is about to implode," said Thomas Woods, Revolution PAC Advisory Board Chairman. "The media rushed to anoint this safe, unremarkable political player as the front-runner. That's what the media does -- it focuses our attention on people who will keep the basic contours of the regime unchanged. As more background on Perry comes to light, the Perry charade will become harder and harder to sustain."
"And it's not just his extremely poor judgment in the past. Perry wants to take credit for the economy of a right-to-work state that has no personal or corporate income taxes, as if these things might not have a teensy bit to do with the Texas economy. Be serious. He is another business-as-usual candidate who will change nothing. Which is why the media is perfectly happy to promote him like crazy."
The Revolution PAC seeks to widen the range of allowable opinion in the public square and to bring to the attention of the American public the neglected alternative of freedom, sound money, self-government, and a non-interventionist foreign policy. This is the answer to the big-government progressives and big-government neoconservatives who have brought our exhausted country to the brink of collapse. Our mission is to support the rare political candidate who defends these great American principles in public life.
###