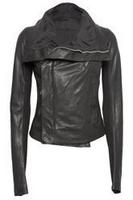 New York, NY (PRWEB) April 8, 2011
Upscale fashion retailer Kirna Zabete has just received a highly anticipated delivery: the Rick Owens Classic Biker Jacket. There is always a wait list for this iconic style -- the perfect early Spring transition layer to polish a casual day, play look or ground a girly dress.
The Classic Biker Jacket features supple lamb leather with an asymmetrical front zip, a knit inner-sleeve panel, front breast pickets, and a single inner pocket.
The jacket is available from Kirna Zabete here: http://www.kirnazabete.com/designers/rick-owens/classic-biker-jacket
About Rick Owens:
Rick Owens is a fashion designer living and working out of Paris. Originally from Southern California, his aesthetic is shaped by black and white Hollywood movies and the rawness of a decayed end of Hollywood Boulevard where he started his label in the early nineties after dropping out of art school. Called a "Minimalist Goth" designing "high priestess shrouds," his work is exemplified by architectural jackets and bias cuts wrapped around the body in somber tones.
About Kirna Zabete:
Kirna Zabete, retail fashion mecca at 96 Greene Street in New York City's SoHo, opened its doors August 1999. This lifestyle store was a new retail concept casually blending luxury items in every category: clothing, jewelry, home, baby, pet and candy. Kirna Zabete launched its e-commerce store in 2008.
###