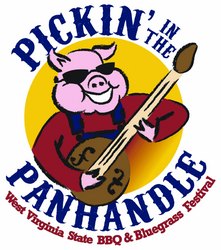 Bluegrass musicians from all over the world will showcase their bluegrass roots September 10-12 in Back Creek Valley, West Virginia.
Martinsburg, West Virginia (Vocus) May 21, 2010
Pickin' in the Panhandle: The West Virginia State BBQ & Bluegrass Festival is pleased to announce its 2010 concert lineup. Bluegrass musicians from all over the world will showcase their bluegrass roots September 10-12 in Back Creek Valley, near Martinsburg, WV, 90 minutes from Washington, D.C.
The Festival is pleased to welcome back 2009 crowd favorites; Lonesome Highway, The Rolling Coyotes, Sleepy Creek, Jetts Creek, Appalachian Flyer, and Junior Sisk & Ramblers Choice. Clowes and Dunlop Band, the winner of 2009 Pickin' in the Panhandle Bluegrass amateur band competition, is also part of this years lineup.
New to this year's Pickin' in the Panhandle concert lineup:
Ricky Skaggs
This fourteen-time Grammy Award winner continues to do his part to lead the recent roots revival in music. With eight consecutive Grammy-nominated classics behind him, all from his own Skaggs Family Records label, Ricky Skaggs is well on his way to showing the world that "country rocks, but bluegrass rules!" http://www.rickyskaggs.com
Joe Diffie Bluegrass Band
A great solo artist who loves traditional bluegrass, Diffie's songs clearly demonstrate his love and devotion to classic bluegrass roots. He has delivered hit after hit totaling twelve #1's and twenty top 10's, plus four gold and platinum albums. http://www.joediffie.com
The Grascals
One of bluegrass music's most highly awarded and acclaimed bands, The Grascals are going to be hitting the road this spring with Hank William Jr. They catapulted to the top of their genre, being named entertainers of the year in 2006, 2007, 2008, and 2009. Check them out online at http://www.grascals.com/
Shenandoah
Over the years this talented group has won many noteworthy awards, including vocal group of the Year in 1991 and 1992. In 1995, the group was awarded a Grammy for "Best Country Collaboration with Vocals" The group has produced thirteen number one records and three gold albums. http://www.shenandoahband.com/
Mountain Heart
Known for their fearless, revolutionizing way of presenting and playing acoustic music, Mountain Heart has been synonymous with cutting-edge excellence in acoustic music circles since the group's creation in 1999. As one of the most highly awarded ensembles ever assembled, Mountain Heart, or members of the band, have either won or been nominated for multiple Grammys, ACM, CMA, and IBMA Awards. http://www.mountainheart.com
Claire Lynch Band
An Intelligent interpreter and a sharp tunesmith, Claire Lynch is one of the classiest acts in bluegrass today. Known for her entertaining performances, Lynch always showcases her enthusiasm, energy, and enjoyment for bluegrass. Her music combines folk, bluegrass, and pop elements, making them a delight to listen to. Check them out at: clairelynch.com.
Josh Williams Band
The IBMA 2008 Guitar Player of the Year is extremely happy to be working with his own band and playing his own style of bluegrass music. Born in Murray, Kentucky; Williams was raised in a house filled with harmonious music. Josh Williams Band prides itself on clean picking and great tone. joshwilliamsmusic.com.
G2
An exciting European bluegrass band, these five band members met while jamming at a festival in their native Sweden. With one album under their belts, another in the works, and plans to tour extensively in the United States, G2 is poised to make a mark on the bluegrass world. g2bluegrassband.com
Newfound Road
The secret weapon of NewFround Road is their lead vocalist Tim Shelton, whose powerful voice leaves a trademark rich, baritone roar. All three men in the group play an instrument and are vocalists. newfoundroad.com.
The Gibson Brothers
In 1998 IBMA named the brothers Emerging Artist of the Year, The Gibson brothers have had numerous songs at # 1 on the charts. In 2004 they were nominated by IBMA for song of the year and in 2009 the Gibson Brothers are proud to announce the nomination of their song, Iron and Diamonds: for IBMA song of the year. Check them out online at gibsonbrothers.com.
Missy Raines
In 2008, Missing Raines and The New Hip, signed with Compass Records and released their first album in February of 2009. Missy Raines is the lead vocalist and guitarist. She is a beloved figure in bluegrass and a pioneering force in acoustic music. She was named IBMA bass player of the year for seven times. Missy Raines is a very talented female and her voice is heard loud. Check her out at: missyraines.com.
Pickin' in the Panhandle is sponsored by the Martinsburg-Berkeley County Convention and Visitors Bureau. Ticket prices for this years' expanded 3 –day event are $40 for adults and free for children 12 and under. For camping, BBQ competition and band competition information, visit the official website at: http://www.PanhandlePickin.com.
Media Contact:
Sandy Sponaugle
304-876-8321
Festival Contact:
Martinsburg-Berkeley County Convention and Visitor's Bureau
304-264-8801
# # #