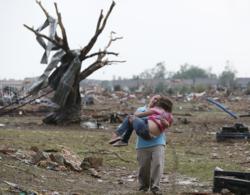 "I also pray for protection and covering over the whole nation. Please cover our families and our loved ones that may be affected by these storms.
Baker, LA (PRWEB) May 23, 2013
Rescue teams combed through pulverized buildings and splintered homes early Tuesday after one of the deadliest tornadoes in U.S. history blasted through Oklahoma City and its suburbs, killing at least 24 people, including eight children. (http://usnews.nbcnews.com/_news/2013/05/21/18394047-crews-comb-devastation-in-oklahoma-confirmed-death-toll-lowered-to-24?lite)
The tornado was estimated to be at least two miles wide at one point as it moved through Moore, in the southern part of the Oklahoma City metropolitan area, KFOR reported. The preliminary rating of the tornado was at least EF4 (166 to 200 mph), the National Weather Service said. (http://www.cnn.com/2013/05/20/us/oklahoma-tornado-developments/index.html)
Bishop Ricky Sinclair quotes Deuteronomy 31:6 "Be strong and courageous. Do not fear or be in dread of them, for it is the Lord your God who goes with you. He will not leave you or forsake you." Even after a horrible storm like this we have to hold onto something that can bring us hope. Let us not be mad at God but instead embrace Him in our time of need. He is always with us and works all things for our good. Romans 8:28 states, "And we know that in all things God works for the good of those who love him, who have been called according to his purpose." "I always trust in the Lord even when things don't look right," says Ricky Sinclair. "It is easy to have peace when there is nothing wrong, but when you can have peace when things are chaotic, that is when faith is activated."
"I pray for peace over the families who have lost loved ones in this storm. God I ask you to help them trust in you in the middle of the storm. Help them to hold onto faith and hope knowing that You are in control and You will work out all things for them. Allow them to be patient on Your timing and not get discouraged in the chaos. I thank you Lord and I trust you." prays Bishop Ricky.
The storm system behind Monday's twister and several on Sunday is threatening a large swath of the United States on Tuesday, putting 53 million people at risk of severe weather. In the bull's-eye Tuesday are parts of north-central Texas, southeastern Oklahoma, and northern Arkansas and Louisiana, according to the National Weather Service.
"I also pray for protection and covering over the whole nation. Please cover our families and our loved ones that may be affected by these storms. I ask that if it be Your will that these storms pass without devastation occurring. In the event that it does hit, Lord we ask for Your peace and comfort through the storm," says Ricky Sinclair.
Ricky Sinclair is the bishop of Miracle Place Church. A religious organization that provides a long list of services to the community, Miracle Place Church is cherished by its congregation and the many individuals whom they impact. Ricky Sinclair provides strong leadership to the members of the church, teaching them how to honor God and serve others while improving their relationships with Christ. Through his work, Ricky Sinclair has enhanced the lives of countless individuals, as he has assisted them in developing their spirituality and serving their Lord.