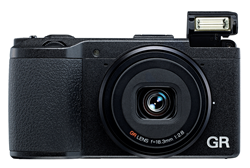 Ricoh Announces the GR 16MP APS-C High Performance Compact Digital Camera—Available for Pre-Order at B&H Photo
NYC, NY (PRWEB) April 17, 2013
The Ricoh GR Digital Camera is a high-performance compact camera with a 16MP APS-C size sensor and the GR Engine V Image Processor for sharp, high-resolution imaging and fast response time. The camera's sensor is designed without the optical low-pass filter, in order to produce particularly sharp details. Its fixed-focal-length 18.3mm lens has the 35mm equivalency of a 28mm lens, and with a maximum aperture of f/2.8, one can effectively work with this wide-angle lens in low-light situations and produce shallow depth of field images. A closer look at some of its features:

Two aspherical elements in the lens design minimize aberrations for sharpness from corner to corner within the frame. An expansive ISO range—from 100-25600—provides further low-light capability, and the GR Engine V works to keep noise levels down, even at high ISOs.
Its 16-megapixel APS-C CMOS image sensor offers low-noise characteristics, super-high resolution with no compromise in image quality or color accuracy.
The advanced GR ENGINE V imaging engine offers high-sensitivity shooting with minimal noise, and the GR's anti-aliasing filterless design produces supremely high-resolution, color-rich images.
The Ricoh GR's fixed wide angle 18.3mm F2.8 GR lens, equivalent to 28mm in the 35mm format, provides high-resolution images with edge-to-edge sharpness. With its nine-blade diaphragm, the GR lens produces a natural bokeh effect at larger apertures.
The high-speed autofocus system captures crisp subjects in a mere 0.2 seconds, and startup time is only one second. The Ricoh GR's AF Continuous Shooting function captures a series of photos at a maximum speed of four images per second, allowing capture of fast-moving subjects, such as athletes and wildlife, all in incredibly sharp focus.
Enjoy DSLR-like handling and functionality with an AF button, accessible with the thumb on the back panel. When the AF lever is set to the Continuous AF (C-AF) mode, capture a series of images of a moving subject—all in sharp focus—by pushing the shutter-release button while depressing the AF button. An aperture preview button has also been added to the Ricoh GR camera's side panel for quick confirmation of the depth of field before shooting.
Despite its large image sensor, the Pentax/Ricoh GR camera has a compact and portable design. Its casing is made of a lightweight magnesium alloy, while its exterior design retains the style typical of the GR series. Designed for maximum holding comfort and operational ease, all control buttons are laid out for easy access with the right hand.
Capture both JPG and open-standard DNG RAW images. The Pentax GR offers a variety of computer-free image-processing functions, including in-body RAW-data development to output JPEG format files.
Capture full HD video in widescreen 1080p resolution (1920x1080) with efficient, high-quality h.264 compression at 30 frames per second. The AutoFocus system remains active with movement as the camera continuously focuses subjects in the center of its angle of view.
Large 3-inch, 1.23 Million Dot LCD Screen
Flexible Shooting Modes
Eye-Fi Card Compatible
Dual-axis electronic level
Image Effects & Macro Mode
35mm Crop Mode
B&H Photo Video is currently accepting pre-orders on the Ricoh GR digital camera.
Read and learn more about the Ricoh GR at BH InDeth.
About B&H Photo Video
As the world's largest source of photography video and audio equipment, B&H Photo-Video is known worldwide for their attentive, knowledgeable sales force, and excellent customer service, including fast, reliable shipping. Visitors to the website can access a variety of enlightening articles and educational videos. B&H has been satisfying customers worldwide for close to 40 years.