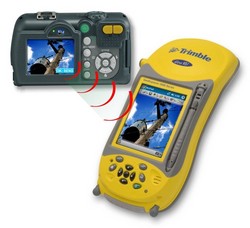 This is a classic example of how the proper convergence of technologies can provide real-world benefits to workflows
West Caldwell, NJ (Vocus) September 22, 2009
Ricoh Americas Corporation, a leading provider of digital office equipment and business solution cameras, today introduced a new solution that provides seamless integration between any WiFi-enabled handheld GPS devices and Ricoh's 500SE-W ruggedized digital camera. The solution addresses the needs of mobile GIS professionals that require high quality images to be associated to mapping points collected in Trimble TerraSyncTM software, ESRI ArcPad®, or other mapping applications compatible with Trimble Mapping and GIS equipment.
By utilizing the WiFi-enabled 500SE in conjunction with the Trimble handhelds, users benefit from not only having a fully rugged system that ensure operational reliability in harsh environments but also the added benefits of a true machine-to-machine automated wireless file transfer and mapping images on the fly.
Alternative solutions for mapping high-resolution images in the field require tedious swapping of SD memory cards from the camera to the handheld or the use of tethered USB cables and cumbersome navigation to access the image file.
In this new approach, as images are captured by the 500SE camera, they may be sent automatically via FTP to the nearby Trimble handheld using a wireless peer-to-peer 802.11 WiFi connection.
As the image(s) arrive, they are received by an FTP utility residing on the handheld called WindImage Transfer written by Wind Environmental Services. The arriving images are automatically routed by WindImage Transfer to a pre-defined folder on the SD card residing in the Trimble handheld.
The images are now ready to effortlessly link to a user-created feature in or a point file derived from the Trimble handheld's GPS position.
"Images of assets play a critical role in the decision making process. You cannot effectively manage what you cannot see. The quality of a decision is in direct relationship to the quality of the image", said Jeff Lengyel, National Manager of Ricoh Americas Camera Division. "This integration enriches the data-collection pricess so accurate and effective decisions can be made."
Image quality is not the only benefit of utilizing a 'camera-first' approach for capturing pictures.
Users enjoy other imaging-based benefits such as a strong flash or poorly lit environments and optical zoom for photography of more distant objects that are not nearby. The 500SE can also imprint an asset's identification number directly on the image as it is captured to maintain a permanent record of its association.
"This is a classic example of how the proper convergence of technologies can provide real-world benefits to workflows", says Garret Couch of Wind Environmental Services."By empowering GIS data collectors with this toolset, we have significantly enhanced their effectiveness at collecting information- rich data in the field."
The solution is available from authorized Ricoh and Trimble dealers throughout the United States. Please contact Brandy Hoge of Ricoh Americas Corporation for more information on purchasing the complete solution or becoming a dealer. 909-890-9039 Brandy.hoge@ricoh-usa.com
Information about Ricoh's complete range of products and services may be accessed on http://www.ricoh-usa.com. Information on the 500SE may be accessed at http://www.ricoh-usa.com/geo.
About Ricoh Americas Corporation:
Ricoh Americas Corporation, headquartered in West Caldwell, N.J., is a subsidiary of Ricoh Company Ltd., the 73-year-old leading supplier of office automation equipment and electronics, with fiscal year 2008 sales in excess of $20 billion.
Ricoh Americas Corporation is a leading provider of document solutions and business solution cameras. Ricoh's fully integrated hardware and software products help businesses share information efficiently and effectively by enabling customers to control the input, management and output of documents. Ricoh's Digital Camera Division manufactures innovative, quality cameras that demonstrate industry-leading performance capabilities.
Ricoh Americas Corporation directly or through its network of authorized dealers markets and distributes products in North, Central and South America.
Information about Ricoh's complete range of products and services can be accessed on the World Wide Web at http://www.ricoh-usa.com.
About Wind Environmental Services:
Wind Environmental Services, based out of Bonne Terre, MO., is a leader in mobile GIS solutions and developers of the Wind Image Suite of software including Wind Image Transfer. From field users to desktop users the Wind Image Suite allows for seamless image integration into multiple mapping applications. Additionally Wind Environmental Services is a full service GIS company providing a wide range of products and services to the GIS Industry. For more information on Wind Environmental visit http://www.windenvironmental.com
All referenced product names are the trademarks of their respective companies.
Contact:
Brandy Hoge
Ricoh Americas Corporation
909-890-9039
Brandy.hoge (at) ricoh-usa.com
###