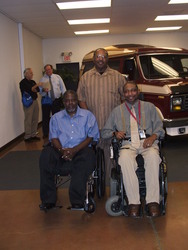 When Ride-Away hear about Jerome's story and his current transportation situation, we knew right then and there that we had to step in and make something positive happen for him
Tampa, FL (Vocus) October 29, 2010
Ride-Away – the premier provider of wheelchair vans in Florida – donated a full-size wheelchair van to Jerome Franklin during a ceremony at Ride-Away's Tampa FL location. Jerome (who is paralyzed as a result from a motorcycle accident 25 years ago) was presented the keys to his new vehicle by Ride-Away President/CEO, Mark Lore and the rest of the Tampa Ride-Away staff. All that were in attendance were deeply moved by how grateful Jerome was to receive a wheelchair van from Ride-Away.
"When Ride-Away hear about Jerome's story and his current transportation situation, we knew right then and there that we had to step in and make something positive happen for him," said Lore. "The way Jerome lives his life is exactly what Ride-Away's corporate culture is built upon – doing the right thing and making a difference in the lives of the people in the communities we work and live in. He gives back unconditionally to his community and asks for nothing in return, which made this opportunity to give back to Jerome that much more extraordinary."
Jerome has had to overcome many obstacles in his life, but it is how he has overcome those obstacles and how he has used his experiences to improve the lives of others that makes him an inspiring hero to many. 25 years ago, Jerome was involved in a severe motorcycle accident that left him paralyzed. Struggling to cope with the fact that he might never be able to walk again, Jerome started to become depressed and turned to drugs and alcohol. Jerome battled with several different illnesses over the course of a few years and seemed to be heading further down the wrong path.
He had gone through various rehabilitation programs and over the course of time was finally able to live with his injuries in a positive manner, and overcome his addiction and depression. Jerome began telling his story to others as a motivational tool to help those that are in a similar situation. His stories inspire and give hope to others to make the right choices. He encourages the people he speaks with to live their lives to the fullest and take nothing for granted. In spite of the obstacles that Jerome has faced, he is now enjoying every moment and cherishing every day. Jerome has been an employee of Goodwill – for whom he credits giving him a second chance - since 1998 and is active in his local church and United Way organization.
"After overcoming significant difficulties in his life, Jerome sets a great example for all of us," says Dennis Charlesworth, Human Resources Manager of Goodwill in Central Alabama. "I have had the pleasure of working with Jerome for the past 6 years and have seen him in his efforts to help others. Jerome sets a positive tone for all of us and when asked how he is, his usual reply is, "I'm blessed" or "No complaints". It comes as no surprise that he would share in his good fortune by giving to others."
Jerome was introduced to Ride-Away through Dr. Raymond Bruce, Sr. Advocate at the Veterans Administration in Tampa. Dr. Bruce has known Jerome for 17 years and has worked with him through an organization called the Mercy Association. Jerome and Dr. Bruce would go around to businesses in each of their local communities and make sure that those businesses that were not ADA compliant became compliant. They both share a strong belief in making peoples' lives better, no matter who that person is.
Raymond went to Ride-Away to trade in his current wheelchair van for a new one, and when he was there, he informed Jim Scruggs (General Manager of Ride-Away's Tampa, FL location) of Jerome's story and how he was in desperate need of a wheelchair van. Jerome's van was not allowing him to go to where he wanted to go with the people that mattered the most to him. He needed a larger vehicle to get him to and from work, as well as take family members and friends out for a drive or to an event. After Ride-Away heard Jerome's story, they thought what better way to have Jerome regain his freedom than giving him his best friends wheelchair van - it turns out that this was the perfect vehicle for Jerome's needs.
"For Ride-Away to step outside of the box and help out Jerome, who is a good standing citizen that gives back to the community, really says a lot about the kind of company Ride-Away is and the employees that Ride-Away has," says Dr. Bruce. "My mission in life it to makes someone else's life better - Jerome has turned his life around and has been able to use his experiences to make the lives of others better as well."
Ride-Away's philanthropic ways have been the cornerstone in their foundation for success since 1986. They have touched the lives of so many through their generous donations and volunteer efforts over the year that giving back to their local communities has become a part of their lives. Their employees run year-round campaigns such as food drives for their local food banks, as well as a program that was started by Ride-Away Vice President, Jaime Kuczewski, called "Comfort For a Cause", which allows employees to wear jeans to work for $5.00 a day.
All of the proceeds from this fundraising campaign are used to purchase gifts and food for local families in need during the holiday seasons, as well as gift certificates and toys for non-profit organizations and families that Ride-Away has provided wheelchair accessible vans for. This campaign alone has raised over $7,000 since it began in 2008 and has been able to help families and organizations throughout Ride-Away's local communities. Ride-Away employees give back to the community not because they are being asked to, but rather because they know that this is what they want do to. Employees at Ride-Away donate over 7,000 hours of volunteer time to reach into their communities and support local initiatives.
Jerome Franklin is known as a hero to many. His motivational story has changed lives and inspired hundreds of people to make a positive difference in this world. Many people do not know this, but when Jerome found out that he was going to be receiving a wheelchair van in Tampa from Ride-Away, he donated his van to a local church to assist with the transportation of another person in need. It's people like Jerome that inspire Ride-Away to continue to change peoples' lives, and deliver them the freedom that they deserve.
ABOUT RIDE-AWAY: Ride-Away is America's largest provider of modified vehicles and adaptive equipment for people with disabilities. Ride-Away products are used by individuals requiring additional assistance while traveling and range from hand controls and lifts to raised door and lowered floor vehicle modifications. Founded in 1986, Ride-Away's 12 East Coast locations are committed to offering a broad selection of specialized vehicles and services to meet the needs of every customer. All of Ride-Away's locations are also QAP (Quality Assurance Program) certified through the National Mobility Equipment Dealers Association (NMEDA), resulting in Ride-Away being held to the highest standards in the industry. Ride-Away also gives back to the community by contributing 10% of its earnings to various non-profit organizations throughout their communities and also has over an 85% volunteerism rate with their employees. For more information, call (888)-RIDE-AWAY (888-743-3292) or visit our website at http://www.Ride-Away.com.
###