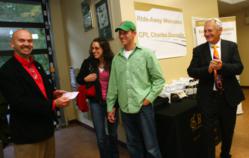 We did what we could do to help," said Ride-Away President Mark Lore."
Londonderry, NH (PRWEB) October 11, 2011
A Ford F250 Super Duty truck and a check were presented to New Hampshire native and Marine Corporal (Cpl.) Charles Donnelly at Ride-Away Handicap Equipment Corp. at their Corporate Offices in Londonderry on Thursday, October 6th. Kirt Rebello, Director of Community Outreach – East for the Semper Fi Fund, Laurie Hollander from Help Our Military Heroes, and Mark Lore, President/CEO of Ride-Away, handed a check to CPL Donnelly for $10,000.00 towards the cost of the vehicle.
"We did what we could do to help," said Ride-Away President Mark Lore. "Chuck has a very compelling story, and once we heard about it, so many people here wanted to step up and help. This is how we're able to do what we do."
Cpl. Donnelly was injured in May 13, 2011 when he stepped on an improvised explosive device (IED) while on patrol with 2nd Reconnaissance Battalion in Helmand Province, Afghanistan. The explosion resulted in the amputation of his left leg, below the knee.
"This is awesome," said CPL Donnelley. "I've wanted one of these since I was a little kid. Buying a nice big truck made it easier for me to sit at a 90-degree angle, like I was sitting in a regular chair."
This vehicle will allow Cpl. Donnelly to safely drive on his own. The vehicle is being made possible through a $10,000.00 grant from the Semper Fi Fund, a grant from the Veterans Administration and personal funds from Cpl. Donnelly. The vehicle was also made possible through administrative and logistical support from Help Our Military Heroes (HOMH) and Ride-Away Handicap Equipment Corp.
"We bridge the gap between what the VA supplies. Hollander said. "We try to make the process easier to help these individuals gain back their mobility."
CPL Donnelley is on temporary leave from the Marines this week, and will need to return to Maryland so that he can continue his treatment. He is looking forward to driving there in his truck.
ABOUT THE SEMPER FI FUND (SSF): The Semper Fi Fund (SFF) (http://www.semperfifund.org) is a non-profit organization that provides financial assistance and quality of life solutions for Marines and Sailors, as well as members of the Army, Air Force and Coast Guard who serve in support of Marine forces, when they become injured in post 9-11 combat or training operations, or they face life threatening illness or injury. Our fund provides relief to qualified Servicemembers and their families for immediate financial needs that arise during hospitalization and recovery, as well as perpetuating needs such as home modifications, customized transportation and specialized equipment.
ABOUT HELP OUR MILITARY HEROES: Help Our Military Heroes, Inc., (HOMH) (http://www.helpourmilitaryheroes.org/) is a non-profit organization dedicated to providing the military wounded with fully equipped handicapped vehicles. HOMH is donation-driven with 100% of funding going toward purchasing special-needs vehicles and awarding them to military heroes in need. HOMH recognizes that every case is different and works with each individual in need to modify a vehicle specific to his or her injuries. HOMH was co-founded in 2009 by Laurie and Ted Hollander and Marybeth Vandergrift. Our Executive Board is comprised of Veterans, Educators, Athletes, Lawyers, and Business Executives all who all come together with one goal: to make life better for our wounded soldiers.
ABOUT RIDE-AWAY: Ride-Away is America's largest provider of modified vehicles and adaptive equipment for people with disabilities. Ride-Away products are used by individuals with minor to profound disabilities requiring additional assistance while traveling and range from hand controls and lifts to raised door and lowered floor vehicle modifications. Founded in 1986, Ride-Away's 12 East Coast locations are committed to offering a broad selection of specialized vehicles and services to meet the needs of every customer. All of Ride-Away's locations are also QAP (Quality Assurance Program) certified through the National Mobility Equipment Dealers Association (NMEDA), resulting in Ride-Away being held to the highest standards in the industry. Ride-Away also gives back to the community by contributing 10% of its earnings to various non-profit organizations throughout their communities and also has over a 95% volunteerism rate with their employees. For more information, call (888)-RIDE-AWAY (888-743-3292) or visit our website at http://www.Ride-Away.com.
###