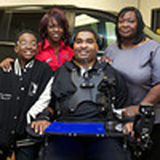 Since Ride-Away started, it has always been our mission to give back to those in need.
Tampa, Florida (PRWEB) December 21, 2011
Ride-Away has always been dedicated to helping within their community. That dedication was recently shown when Ride-Away arranged for a temporary fully equipped rental wheelchair van to disabled Marine Staff Sergeant Scott Nicholas and his family while his new BraunAbility van was being modified. SSgt Nicholas is a veteran of Operation Iraqi Freedom.
SSgt Nicholas was disabled in a motorcycle accident in 2010, leaving him paralyzed from the shoulders down. His family has stood by him throughout his physical therapy and rehabilitation, and now, they received the gift of mobility just in time for Christmas. Currently, SSgt. Nicholas is going through physical therapy in Tampa, Florida, at the Tampa Veterans Administration Hospital.
It took BraunAbility, one of the nation's leading wheelchair van modification companies, six months to manufacture the van, during which time Ride-Away provided SSgt. Nicholas and his family with a temporary wheelchair accessible van. Modifications to the wheelchair van included a lowered floor, wheelchair-locking system and a unique seating position to ensure that SSgt. Nicholas can ride in the passenger side position within his wheelchair.
This amazing gift was made possible through the combination of a grant of $12,700 from the Semper Fi Fund, and through the dedication and sense of responsibility demonstrated by Ride-Away and BraunAbility. Help Our Military Heroes (HOMH) provided logistical support for the endeavor.
The award ceremony was a touching event attended by SSgt. Nicholas, his wife Yolanda, Ride-Away Handicap Equipment President Mark Lore and General Manager of Ride-Away Tampa, Jim Scruggs.
Ride-Away President, Mark Lore says: "Since Ride-Away started, it has always been our mission to give back to those in need. Teaming up with a great organization like The Semper Fi Fund allows us to meet that mission by giving products and services to our wounded military heroes. It is exactly this type of situation that all Ride-Away employees relish, and unconditionally give their support for. Thank you Scott and family for your sacrifice, and thank you Semper Fi for allowing us to partner with you!"
To learn more about wheelchair van modifications or how such a vehicle can provide benefits, visit http://www.Ride-Away.com.
About Ride-Away: Founded in 1986, Ride-Away has 12 East Coast locations committed to offering a broad selection of specialized vehicles and services to meet the needs of every customer. All of Ride-Away's locations are also QAP (Quality Assurance Program) certified through the National Mobility Equipment Dealers Association (NMEDA), resulting in Ride-Away being held to the highest standards in the industry. Ride-Away also gives back to the community by contributing 10 percent of earnings to various non-profit organizations in its locations' communities and also has a 95 percent employee volunteerism rate.
###