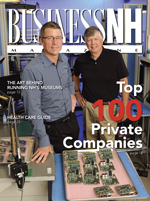 Londonderry, NH (PRWEB) September 13, 2011
Continued growth and success in today's economy is not something that comes very easy to many companies throughout the United States. With new product innovations and continued support of local community initiatives, Ride-Away (America's largest provider of wheelchair vans and mobility equipment) has shown that growth is attainable in this economy. Ride-Away has moved up two spots from last year's rankings to number 33 on the Business NH Magazines Top 100 Private Companies list, making this the fourth consecutive year that they moved up on this list.
"Given the state of the economy and the industry that we are in, I am exceptionally proud to witness Ride-Away grow the way it has over the past four years," says Mark Lore, President and CEO of Ride-Away. "With the support of our customers, the community, and the hard work that our employees have put forth, we will continue to grow and expand as a company well into the future."
Out of the thousands of submissions that Business NH Magazine received from private companies throughout New Hampshire, only the top 100 companies were selected, based on gross revenue for 2010. Only 33% of the top 100 companies on the list from 2007-2009 grew revenues, and Ride-Away can proudly say that they are among that 33%. By committing themselves to carry out their core values, Ride-Away has been able to become not only a leader in the vehicle modification industry, but a leader in business throughout New Hampshire as well.
"Our corporate culture and core values are built upon always doing the right thing and making a difference in the communities we work and live in," Jaime Kuczewski, Ride-Away Vice President said. "It is because we have continued to carry out the same set of core values that Mark Lore instilled in this company from day one, that we have been able to enjoy our success and growth not only in our industry, but amongst the many great companies in New Hampshire as well."
Being an innovator and paving the way for other mobility dealers has also proved to be a significant part of Ride-Away's continued successes. In 2010, Ride-Away was one of only a handful of mobility dealers throughout the country to provide the Mobility Conquest wheelchair accessible motorcycle as well as the GoShichi wheelchair accessible pick-up truck. Continuing to be at the forefront of the vehicle modification industry in 2011, Ride-Away became one of two mobility dealers to carry and install the most innovative line of driving controls from Guidosimplex. The ability to provide their customers with products and services that very few in the industry can offer has allowed Ride-Away become an industry leader.
Ride-Away plans to continue to grow and succeed as a company that provides wheelchair accessible vans and vehicle modification for people with disabilities by relying on the same core values that have been in place since the start of the company in 1986. For more information about Ride-Away visit http://www.Ride-Away.com.
ABOUT BUSINESS NH MAGAZINE: In 1983, Business NH Magazine became New Hampshire's first statewide business publication that ran on a monthly basis. Known for its excellent business coverage, special reports on local businesses and business people, and sponsoring of various competitions among New Hampshire businesses, they are still the only business publication that runs on a monthly basis. Today, the magazine reaches 50,000 key decision-makers and business leaders statewide.
ABOUT RIDE-AWAY: Ride-Away is America's largest provider of modified vehicles and adaptive equipment for people with disabilities. Ride-Away products are used by individuals with minor to profound disabilities requiring additional assistance while traveling and range from hand controls and lifts to raised door and lowered floor vehicle modifications. Founded in 1986, Ride-Away's 12 East Coast locations are committed to offering a broad selection of specialized vehicles and services to meet the needs of every customer. All of Ride-Away's locations are also QAP (Quality Assurance Program) certified through the National Mobility Equipment Dealers Association (NMEDA), resulting in Ride-Away being held to the highest standards in the industry. Ride-Away also gives back to the community by contributing 10% of its earnings to various non-profit organizations throughout their communities and also has over a 95% volunteerism rate with their employees. For more information, call (888)-RIDE-AWAY (888-743-3292) or visit our website at http://www.Ride-Away.com.
###