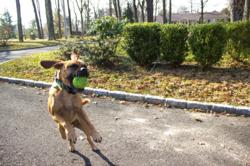 One technology -- long-distance video chat -- creates the problem -- and another steps in to solve it.
New York, NY (PRWEB) May 15, 2013
Not that long ago, Henry would have been dead. Stuck in an animal shelter on the east coast, desperately wanted by a family across the country -- but with pet transport services costing in some cases more than two thousand dollars, Barbara Seges and her two children weren't sure what to do.
And, sure, maybe they shouldn't have fallen in love with a puggle almost 3,000 miles away -- but it was too late to think about that. The east coast shelter Barbara had found online, struggling with state funding cuts and an excess of displaced animals due to Hurricane Sandy, was only trying to help its dogs find homes when it introduced video chat as a way for potential owners to meet their future pets. Barbara and her kids -- who'd exhausted the local market looking for a trained puggle of just the right age for their family -- didn't expect to find their perfect dog so far away, but, according to Barbara, they fell in love instantly with the "spunky" and "outgoing" Henry. After half a dozen video chats -- where he seemed to respond to their voices and recognize them over the ooVoo connection -- it was like he was already a member of the family.
Barbara Seges was desperate to get Henry to his new home, but had limited options. She tried putting Craigslist ads in major cities surrounding the shelter, contacted a number of pet transport services, and even tried to work with multiple transporters to each handle a piece of the route. The possibilities were either too expensive, logistically impossible, or of questionable safety. Longing to meet the newest member of their family, the Seges' decided to skip their summer vacation and instead use their budgeted time and money to fly out and bring Henry home themselves. Estimated cost, including car rental, gas, tolls, and hotel stays: an agonizing $3,500.
One technology -- long-distance video chat -- creates the problem -- and another steps in to solve it. A growing number of ridesharing websites -- initially designed to connect travelers or their possessions with drivers open to making a bit of extra money on their trips -- have launched in recent years, but cross-country pet transport typically hasn't been the advertised use. But after two weeks spent trying to search for transportation -- putting Henry two weeks closer to running out of time -- a stranger who saw Barbara's ad on Craigslist sent her an e-mail suggesting she try posting the trip on Rideship, a startup internet company based in Norwalk, Connecticut.
Barbara figured she had nothing to lose. After posting her request on Rideship, which included pictures and details about Henry, she received a message from a trucker starting his long journey home from the east coast, set to pass through New York in a few days, and willing to transport Henry for a fraction of the cost of the other options -- just $300. Like many people using peer-to-peer services -- such as airbnb, couchsurfing, and many others -- Barbara was nervous to let a stranger be the one to bring Henry to meet his new owners.
Barbara exchanged contact information with the trucker and spoke to him on the phone. He was, without a doubt, a dog person. He grew up with dogs, owned a dog, his family loved animals -- and, best of all, he was genuinely excited at the thought of having a furry companion to accompany him on the long journey home. While Barbara and her family had never met Henry and didn't know how he would behave on the trip, she was reassured by their conversations.
Less than a week later, Barbara met the trucker at a nearby highway service area, and Henry was finally in the arms of his new family. "Henry was sad to leave [the trucker]," Barbara admitted, "but he quickly adjusted, and he's amazing. We love him, and we don't know what we'd do without him."
The unnecessary euthanizing of homeless pets may not have been the problem that ridesharing websites intended to solve, but the platform ends up being the perfect solution in situations like these, and, most exciting for animal shelters, can let them expand the pool of potential owners beyond just the local area. Between video chats and ridesharing, pet adoptions can become the latest in a long line of industries transformed by technology. Barbara Seges and her family are certainly thankful -- their now beloved Henry was able to find his way home.
The Seges family's summer vacation is back on track-- and if they need a pet-sitter, they know there's at least one long-haul trucker who would likely love a reunion.
By Jeremy Blachman