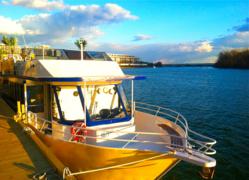 The Best Boating Experience in DC!
Washington, District of Columbia (PRWEB) April 10, 2013
Boomerang Tours, Inc. has served as Washington, D.C.'s most unique party transportation and travel company since 2006. The company provides affordable and safe travel to vineyard tours, concerts, DC nightlife tours, tubing trips and yacht cruises in the Washington D.C. area.
The Boomerang Party Yacht was introduced to Washington, D.C. in March of 2012, providing a variety of cruises on the Potomac River for 10 months out of the year. This 80 passenger, 65-foot double-decker vessel is built with hardwood floors, a custom-made bar, a DJ booth, panoramic windows, and a large upper deck providing its guests with the best views of DC's monuments from the Potomac River. The Boomerang Party Yacht will be cruising in and out of Georgetown 7 days a week this season and is available for private and public cruises.
Boomerang Tours, Inc. was founded in the spring of 2006 with one party bus. The company is driven by a motivated Washingtonian husband and wife team who were determined to deliver an exciting atmosphere to customers while receiving safe and affordable transportation. Quickly becoming a favorite DC nightlife activity, Boomerang added a bus to its fleet each year while increasing its list of nightlife and excursion event offerings through the DC area.
The Boomerang Buses travel to Virginia wineries for vineyard tours, Harper's Ferry for tubing trips, upcoming concerts such as the Sweetlife Festival and WMZQ Festival, and horse races such as Gold Cup and Preakness. Our regular DC nightlife tours occur every Friday and Saturday.
"For anyone in the DMV looking for a unique way to spend their weekend or celebrate with friends, a Boomerang Tour will definitely live up to your expectations! Thank you to everyone at Boomerang Tours who made our Redskinettes team bonding an unforgettable adventure!" – The Washington Redskins Website, June 2012
"The best boating experience in DC!" – Zerve Customer Review. " A DC Must! A great way to see the city and have an awesome time. Well managed and at the right price!" – Zerve Customer Review.
Boomerang Tours, Inc. will be introducing a new and exciting 90 passenger Pirate Ship to their fleet at the end of April.
For more information about Boomerang Tours, Inc., visit our website at http://www.ridetheboomerang.com, call our main line at 202-557-9896 or email us at info(at)ridetheboomerang(dot)com. To purchase tickets to an upcoming Boomerang event, visit our calendar of events at http://www.zerve.com/boomerang/calendar.
About Boomerang Tours, Inc.:
Boomerang Tours, Inc. is a leader in Washington DC's nightlife industry, providing Party Bus and Party Yacht excursions to the locals and visitors in the Nation's Capital.