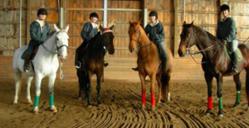 Camps are a great way to have fun riding and learning all about horses
Medway, MA (PRWEB) April 20, 2012
Rising Star Equestrian Center has announced Summer Riding Camps for June, July and August. Each weeklong session is limited to about ten campers. Their day will include a horsemanship lesson, a riding lesson, lunch break, and afternoon activities such as arts and crafts, horseless horse shows, or equestrian board games.
The camp is for boys and girls ages 6 and up. The camps are tailored to the riders' ability levels, and are suitable for beginners as well as experienced riders. Campers are expected to come in long pants, riding boots, and a certified riding helmet. Extra clothes may be brought along to change into after riding. Campers should also bring a lunch, sunscreen, bug spray and extra drinks.
The Center's owner Kathleen Haas Ogonowski states, "Camps are a great way to have fun riding and learning all about horses."
Rising Star Equestrian Center camps run from 9 am to 2 pm, Monday through Friday. An option is offered to allow a child to extend the stay from 8:30 am to 4:30 pm. Five weeklong sessions will be held June 25-29, July 9-13, July 23-27, August 6-10, and August 20-24.
Rising Star offers qualified trainers for students of all ages and ability levels. They also have a fleet of sweet and talented school horses and ponies for the campers to ride.
About Rising Star
Rising Star Equestrian Center, Inc. has been owned and operated by Kathleen Haas Ogonowski since 1995. In 1997, Rising Star moved to the current farm with 13 acres, 50 box stalls, 17 turnout paddocks, a 75 x 300 foot indoor ring, a 100 x 200 foot outdoor ring, heated grooming stall, tack room, and observation area with Wi-Fi, plus boarder tack room and lockers.
Over the years, riding students of Rising Star have qualified and placed in local, regional and national finals through the high level of training they have received at the facility. Many students have become professionals. The Equestrian Center has its own team made up of junior high and high school riders, and also hosts the Wellesley College Equestrian Team.
For more information, please visit their mobile-friendly website at http://www.risingstarequestriancenter.com or call 508-533-8551.