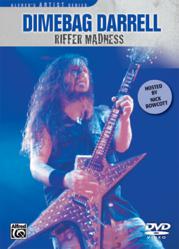 Los Angeles, CA (PRWEB) May 23, 2011
Alfred Music Publishing, the world's largest educational music publisher, releases Dimebag Darrell: Riffer Madness, an instructional DVD teaching the signature riffs and patterns of Dimebag Darrell. As the founding member of Pantera and Damageplan, Dimebag is recognized as one of the most influential guitarist in metal music.
Dime's good friend and protégé, metal maestro Nick Bowcott, helps pass Dime's torch to the next generation in this much-anticipated DVD. Nick takes 97 of Dime's critical riffs and patterns and uses them as a jumping-off point to help guitarists play their favorite guitar parts—and more importantly—understand the creativity, attitude, feeling, and intention underlying each pattern. Topics include: killer rhythm guitar, power grooves, pick squeals, psychotic syncopation, holes of silence, chromatics, diabolical dyads, and much more.
To view the official video trailer for this DVD, click here: http://alfred.com/riffermadness
Picture-in-picture fret and pick action footage depict every performance nuance in a clear and player-friendly tutorial setting. The Dimebag Darrell: Riffer Madness DVD also includes a 28-page printable booklet with TAB of all 97 riff and pattern examples. Additional special features include: Two extensive "Lost Lessons" taught by Dime himself, an interview with Dime's wife Rita Haney, a "Dime Tribute" performance featuring Nick Bowcott, and much more.
Dimebag Darrell: Riffer Madness DVD (00-35005) is now available for $24.99 at music retail stores and at alfred.com/guitar. Also available is the Guitar World Presents Dimebag Darrell's Riffer Madness book and CD set, sold separately.
REVIEW COPIES AVAILABLE UPON REQUEST
ABOUT ALFRED MUSIC PUBLISHING
Alfred Music Publishing is the world's largest educational music publisher. Alfred produces educational, reference, pop and performance materials for teachers, students, professionals, and hobbyists spanning every musical instrument, style and difficulty level. Alfred's home office is located in Los Angeles, with domestic offices in Miami and New York as well as offices around the world including Australia, Germany, Singapore and the United Kingdom.
Since 1922, Alfred Music Publishing has been dedicated to helping people learn, teach, and play music. Alfred currently has over 90,000 active titles. Alfred represents a wide range of well-known publications—from methods like Alfred's Basic Guitar, Alfred's Basic Piano Library, Premier Piano Course, Sound Innovations, and Suzuki, to artists like Led Zeppelin, The Rolling Stones, Bruce Springsteen, Van Halen, Green Day, Michael Jackson, Sheryl Crow, Eagles, Cole Porter, and George and Ira Gershwin, to brands like Star Wars, Harry Potter, Lord of the Rings, Rolling Stone Magazine, and Billboard.
In addition to its own titles, Alfred distributes products from over 50 companies, including Belwin, Daisy Rock Girl Guitars, Dover Publications, DW Drums, Faber Music, Highland/Etling, Kalmus, National Guitar Workshop, Penguin, TASCAM, Ultimate Support, and WEA.
###