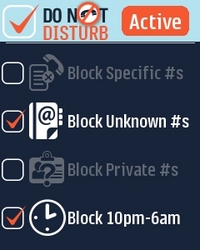 Mobile phones are terrific tools for connectivity; the problem is that connectivity goes both ways.
San Rafael, CA (PRWEB) December 2, 2009
RiffWare LLC (http://www.riffware.com), a developer of life management mobile phone services and applications, today announced the launch of its Do Not Disturb application on the BlackBerry® App World. Do Not Disturb acts as a mobile executive assistant, automatically screening incoming calls and sending them to voicemail when they are unwanted. Users can select among several easy to understand rules that weed out commonly undesirable phone calls like private or restricted callers, numbers not in the user's address book, or specific numbers. The application can be downloaded and tried for free through the App World. For a limited time Do Not Disturb can be purchased in full for $6.99, 30% off it's regular price of $9.99.
http://appworld.blackberry.com/webstore/content/4326
Rob Witman, CEO of RiffWare, says that, "Mobile phones are terrific tools for connectivity; the problem is that connectivity goes both ways. As a result, our lives are continually interrupted by unwanted calls on our cell phones. Do Not Disturb helps mitigate this issue by automatically sending those calls to voicemail, before they bother you. DND can also send a text message indicating the times you will be available if you can't answer your phone, for example during a meeting, but the call is desired. Do Not Disturb is a great tool that provides real value in managing your mobile life."
Do Not Disturb was first released this summer on the nation's largest wireless carrier for their line of feature phones. It immediately grew in popularity and was highlighted by various blogs and review sites. This release of Do Not Disturb for the BlackBerry® App World represents the first in a line of deployments into the 'smart phone' space. RiffWare has finalized deals with other Tier 1 & Tier 2 carriers and will be releasing Do Not Disturb around the holidays in those markets as well as into the Android Marketplace in Q1 of 2010.
###