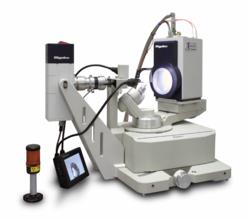 The Woodlands, TX (PRWEB) July 26, 2012
Rigaku Corporation is pleased to announce its attendance at the 62nd annual American Crystallographic Association (ACA) meeting running from July 28 through August 1 at the Westin Waterfront Hotel in Boston, Massachusetts. Rigaku will be exhibiting its advanced lines of single crystal X-ray diffraction, automated crystallization, and general purpose X-ray diffraction instrumentation at Booth #315.
Scientific and poster sessions, workshops and events will be presented in conjunction with the largest crystallographic exhibit show in North America. Throughout the exhibition, Rigaku will be hosting demonstrations for their new X-ray diffraction and X-ray scattering technologies as well as their new High Res UV imaging system.
On display in the 400 square foot island exhibit will be automation systems (Alchemist DT - benchtop liquid handling system, Minstrel™ DT UV - desktop automated UV-fluorescence crystal imaging system), small molecule systems (XtaLAB mini™ - benchtop chemical crystallography system), protein crystallography systems (Compact HomeLab™ microfocus sealed-tube X-ray crystallography system, BioSAXS-1000 small angle X-ray scattering /SAXS Kratky camera system), and the PlateMate plate adapter for in-situ X-ray screening.
In addition to the announced products to be featured, Rigaku will also be debuting three new products to add it its portfolio of X-ray diffraction and X-ray scattering solutions. In conjunction with the exhibit and festivities, will be hosting a number of events and Rigaku scientists will deliver five crystallography presentations at the ACA conference, discussing applications and describing new hardware and software available from Rigaku:
7/29/2012
Rigaku Lunch and Learn
Oral Presentation: Is A "Benchtop" Diffractometer Suitable For Research?
Alchetinis: Happy hour, compliments of the versatile liquid handling features offered by the Rigaku Alchemist DT
YSSIG Professional Odyssey panel – Jim Pflugrath and colleagues will share their career experiences, give advice and answer career questions
7/30/2012
Rigaku Run Fun –5K with great prizes for the fastest man and woman. Everyone receives a signature Rigaku t-shirt.
Oral Presentation: Short SAXS data collection times on various protein standards using a home - X-ray source and the BioSAXS-1000
Alchetinis: The Alchemist DT serves cocktails
7/31/2012
Oral Presentation: "Got Halide?" SAD Phasing in the Home Lab
Poster presentation: The Rigaku PlateMate, a New and Simple Tool for Screening Crystals in Crystallization Plates
Poster presentation: A Generic Method to Increase Throughput and Efficiency of Crystallization Optimization
About Rigaku
Since its inception in Japan in 1951, Rigaku has been at the forefront of analytical and industrial X-ray instrumentation technology. Rigaku and its subsidiaries form a global group focused on life sciences and general purpose analytical instrumentation. With hundreds of major innovations to its credit, Rigaku and its subsidiary companies are world leaders in the fields of small molecule and protein crystallography, X-ray spectrometry and diffraction, X-ray optics, as well as semiconductor metrology. Rigaku employs over 1,100 people in the manufacture and support of its analytical equipment. Its products are in use in more than 70 countries – supporting research, development, and quality assurance activities. Throughout the world, Rigaku continuously promotes partnerships, dialog, and innovation within the global scientific and industrial community.
For further information, contact:
Michelle Goodwin
Tradeshow Coordinator
tel: 281-362-2300 x122
Michelle(dot)Goodwin(at)rigaku(dot)com