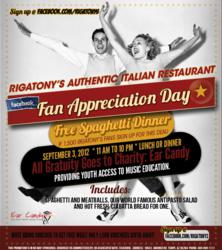 One of the most gratifying aspects of Facebook is having the power to connect with our patrons and in the end being able to use that power to do something good in our community
Tempe, AZ (PRWEB) August 23, 2012
RigaTony's Authentic Italian, serving the best authentic Italian food in Tempe, AZ, will be holding its First Annual Facebook Fan Appreciation Day, September 3, 2012 from 11 am to 10 pm. The Tempe, AZ restaurant will be giving away a complete spaghetti and meatball dinner to 1,500 Facebook users as long as 1,500 people sign up for the deal by September 3, 2012! This dinner giveaway is valid for both lunch and dinner patrons, and includes RigaTony's world famous antipasto salad and fresh baked ciabatta bread.
Facebook users should go to facebook.com/rigatonys "like" the RigaTony's Facebook page and then enter their email to sign up for the giveaway. As long as 1,500 Facebook users have signed up by September 3, 2012, they will be e-mailed a voucher to attend RigaTony's First Annual Facebook Fan Appreciation Day. The first 1,500 people who sign up using their e-mail will receive the free meal.
Gratuity is not included, but all tips collected that day will be donated to Ear Candy Charity, a non-profit music organization providing youth access to music education. RigaTony's will be assisting the charity's efforts to reach its goal of $25,000, the minimum funding needed to launch and operate Ear Candy's newest program, Online Instrument Drives.
Mike Lopercio, owner of RigaTony's, has been using Facebook to promote his restaurant for 2 years, "One of the most gratifying aspects of Facebook is having the power to connect with our patrons and in the end being able to use that power to do something good in our community," says Lopercio.
RigaTony's Authentic Italian food in Tempe, AZ is reminiscent of New York's Little Italy. The Italian restaurant has been locally owned and operated since 1994 offering dine in, carry out, pizza, large parties to go and an Italian market. RigaTony's Four Layer Hazelnut Chocolate Cake was just named, "One of the Tastiest Cakes in the South East Valley" by the Arizona Republic. RigaTony's Authentic Italian is located at 1850 E. Warner Rd. Tempe, AZ 85284.
Ear Candy Charity is based in Phoenix, AZ. Ear Candy's mission is to provide children access to music education. Arizona is currently 49th out of 50 states in per person educational funding and arts programs are the first to get cut. Donations can be given via Indiegogo.com/EarCandy.