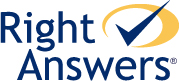 Edison, NJ (PRWEB) November 06, 2012
RightAnswers, Inc., the #1 provider of knowledge management and self-service solutions, today announced details of its upcoming complimentary Webinar, "Justifying Knowledge Management Initiatives – Best Practices and Real-Life Examples." To be held on Thursday, November 8, 2012 at 11:00 a.m. (EDT), the Webinar will highlight key qualitative and quantitative benefits that can be garnered with knowledge management in an effort to help IT and customer support departments justify the investment to their management teams.
Internal support and customer service organizations are continually being asked to do more with less while remaining cost-efficient and maintaining service-level agreements (SLAs) with end-users. Meanwhile, constant business and IT changes add disruption and frustration for both support teams and end-users.
During this 60-minute Webinar, RightAnswers executives Simon Yelsky (VP of Product Management and Customer Support) and Tom Policano (Director of Client Success) will provide attendees with detailed ROI studies and actual customer metrics and reporting. Additionally, the RightAnswers Unified Knowledge Platform will be demonstrated including how customer cases and tickets can be closed using knowledge directly from ITSM, CRM and internal systems/portals.
Attendees will also learn how more than 500 world-class organizations have achieved operational and financial benefits while successfully developing new support cultures by using the RightAnswers Unified Knowledge Platform.
Organizations dealing with the following challenges are strongly encouraged to attend:

Has your budget been slashed and you are now being asked to do more with less?
Are you in a position to address business change that will lead to increased call volumes (Bring Your Own Device, Windows 8 upgrade, mobile initiatives, new product upgrades/releases, etc.) and effectively impact the support experience for your users?
Are you struggling to meet SLAs cost effectively?
Are your internal support and customer service teams underachieving?
Is it possible to implement a comprehensive knowledge strategy without adding to staff?
How can you leverage your existing sources of information through implementing a knowledge management solution?
To register, please visit: http://www.rightanswers.com/about-us-news-events-webcasts-justifyingkm.htm.
About RightAnswers
RightAnswers is the #1 provider of knowledge management and self-service solutions and delivers a cloud-based and/or on-premise enterprise knowledge management platform to optimize customer service and IT support operations. The company's flagship software – RightAnswers Unified Knowledge Platform – is utilized by hundreds of clients and millions of users around the globe, including commercial enterprises, higher education institutions and government agencies, to support the changes in their IT and businesses. For more information, please visit rightanswers.com, and follow us on LinkedIn, Twitter, Facebook, YouTube and our blog.