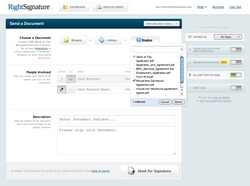 Users can now access their Dropbox files from inside RightSignature and send any document to one or more parties to fill out and sign online.
Santa Barbara, CA (PRWEB) September 16, 2010
RightSignature, the popular software-as-a-service (SAAS) for getting documents signed online, today announced integration with Dropbox, the leader in cloud file storage, syncing, and sharing. The integration of these two innovative applications provides small and medium businesses a completely cloud-based solution for document management, data collection, and e-signatures.
Users can now access their Dropbox files from inside RightSignature and send any document to one or more parties to fill out and sign online. RightSignature enables users to place text fields, checkboxes, initials boxes, and signature boxes throughout documents. Powerful navigation tools guide signers through filling out and executing any kind of form or agreement. As soon as documents are completed on RightSignature, signed copies are automatically placed in the user's Dropbox account.
RightSignature captures real, handwritten signatures online, replicating the feeling of the pen-and-paper signing experience in an elegant browser interface. Customers sign online in seconds, and a high percentage of contracts are executed immediately. Parties may also create signatures on the iPad or iPhone, using the device's touchscreen as a signature pad. Popular documents sent for electronic signature on RightSignature include new customer applications, real estate contracts, non-disclosure agreements, design proofs, and employment forms.
"The integration of RightSignature and Dropbox demonstrates how small businesses are using online software to improve efficiency, strengthen security, and increase revenue," said Daryl Bernstein, CEO of RightSignature. "Our team relies on Dropbox every day, and this integration enables the millions of other Dropbox fans to send documents via RightSignature with a few clicks. RightSignature and Dropbox share a common vision for simple, intuitive software that makes life easier, and we're excited to make our applications work together seamlessly."
"The RightSignature integration makes Dropbox even more valuable as a document management tool for businesses," said Adam Gross, Senior Vice President of Sales and Marketing at Dropbox, "Users rely on Dropbox to sync, share, and secure their files, and now they can send those files for e-signature via RightSignature and receive signed copies right back in Dropbox. This is a great example of the kind of power and functionality that's possible when integrating cloud applications."
About RightSignature:
RightSignature provides cutting-edge, on-demand document generation and electronic signature software. RightSignature's technology empowers small businesses and the world's leading companies to send documents for signature with a few clicks. Parties fill out and sign documents online quickly and easily, saving time, money, and paper. Utilizing the world-class infrastructure of Amazon Web Services, RightSignature is a software-as-a-service and is available anytime, anywhere, through any web browser. RightSignature LLC has offices in Santa Barbara, California, and London, England.
###