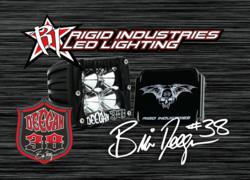 I'm stoked to be partnering with Rigid to launch my unique line of Deegan38 lights
(PRWEB) April 03, 2013
Rigid Industries LED Lighting, a leader in forward projecting LED technology, is excited to announce our very first Signature Series of LED Lighting with "The General", Brian Deegan, a pioneer in actions sports. Deegan, a prevailing Freestyle Motocross Rider, Off-Road Truck Driver and Rally Car Racer embodies the fearless mindset and rebel attitude through which his Rigid Industries line, the Deegan Signature Series, was created.
"I'm stoked to be partnering with Rigid to launch my unique line of Deegan38 lights." Says Brian Deegan, extreme sports pioneer and Rigid Industries Signature Series partner.
Deegan has used this same mindset and attitude to become one of the top talents and competitors in every sport and endeavor he takes on. One such endeavor, Metal Mulisha, is a brand fueled by breaking world records and winning gold medals. It is this same "Mulisha Twist" that has influenced his Signature Series – the Deegan Signature Series.
"Partnering with Brian Deegan on a light project is something we have wanted to do for a long time, Brian personifies this industry in ways that we feel align with our own business model." Says Taylor Anderson, VP of Marketing. "Our products are tough, edgy and extreme and I am looking forward to seeing where this thing takes us together."
The Rigid Industries Deegan Signature Series LED light is a Dually, featuring the Deegan 38 crest; as well as the signature teeth on the light bezel that Brian Deegan, his Rally Car and Off-Road Truck are known for. The Rigid Industries Deegan Signature Series light comes in two beam pattern options: Spot and Flood. They come in a set only and also with a Signature Series Brian Deegan cover.
The joining of Rigid Industries LED Lighting and Brian Deegan combines talent, enthusiasm, passion and determination to create a new line of Signature Series LED Lighting. While widely known in the Off Road and Power sports world, Rigid Industries can also be found lighting up Work/Utility, Mining, Marine, Fire/Rescue and Agriculture industries. To learn more about the Deegan Signature Series LED Lighting go to http://www.RigidIndustries.com
To see the 2013 Rigid Industries Catalog please click here: 2013 Rigid Industries Catalog
About Rigid Industries:
Established in 2001, Rigid Industries has become a world leader in the vehicular mounted LED Lighting Industry. Rigid LED Lighting Products can be used for Off-Road LED Lighting, Military LED Lighting, Agricultural LED Lighting as well as Marine LED Lighting. Rigid Industries is committed to supporting their customers and the industries they work in by continuously developing new product lines to meet their needs. Rigid Industries now has design, customer service, sales and manufacturing all headquartered in Mesa, Arizona. For more information please visit http://www.RigidIndustries.com.