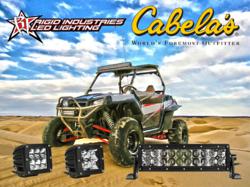 Mesa, AZ (PRWEB) February 19, 2013
Rigid Industries is proud to announce that Cabela's Outdoor Stores will be kicking off their 2013 season with the addition of Rigid Industries LED lighting products.
Rigid Industries products will be available from Cabela's Tuesday February 19th, 2013. "We are very excited to be partnering with Cabela's and to have our product available through their multiple sales channels. Our product portfolio fits into many of the Cabela's markets", says Anna Cook-Vertical Category Manager for Rigid Industries. The initial Rigid products offered by Cabela's will be focused on UTV lighting and automotive lighting in the off-road segment.
Rigid Industries started offering products for offroad vehicles in 2006, and has quickly increased its offerings into many different categories including marine, agriculture, camping and the outdoors space. Whether you are in need of an industry leading LED Flashlight (the Rigid Halo) or need to illuminate your entire camp with one of our Diffused D-Series products, Rigid has you covered.
About Rigid Industries
Established in 2006, Rigid Industries has become a world leader in vehicular mounted LED Lighting. Rigid LED Lighting Products can be used for Offroad LED Lighting, Military LED Lighting, Mining LED Lighting, Fire Rescue LED Lighting, Agricultural LED Lighting, as well as Marine LED Lighting. Rigid Industries is committed to supporting their customers and the industries they work in by continuously developing new product lines to meet their needs. Rigid Industries now has design, customer service, sales and manufacturing all headquartered in Mesa, Arizona. For more information, please visit http://www.RigidIndustries.com.
About Cabela's
Cabela's is a leading specialty retailer, and the world's largest direct marketer, of hunting, fishing, camping and related outdoor merchandise. Since our founding in 1961, Cabela's® has grown to become one of the most well-known outdoor recreation brands in the world, and has long been recognized as the World's Foremost Outfitter®. Through our established direct business and our growing number of destination retail stores, we offer a wide and distinctive selection of high-quality outdoor products at competitive prices while providing superior customer service. We also issue the Cabela's CLUB® Visa credit card, which serves as our primary customer loyalty reward program.