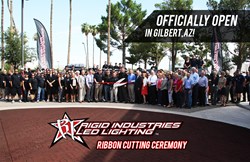 "There's a passion and sense of ownership with everybody here… without them we couldn't be where we are… we're excited for the future here."
Gilbert, AZ (PRWEB) July 25, 2013
Rigid Industries has officially cut the Gilbert Chamber of Commerce red ribbon, and opens its doors to their building located in Gilbert, AZ. Mayor John Lewis of Gilbert, AZ was in attendance for the ceremony, along with city councilman Eddie Cook, several ambassadors for the Gilbert City of Commerce, Gilbert Fire Chief Jim Jobusch, Rigid customers, suppliers and all Rigid Industries employees.
Co-owner, Jason Christiansen, describes his employees and company with, "There's a passion and sense of ownership with everybody here… without them we couldn't be where we are… we're excited for the future here." He gave many thanks and appreciation to all present, and re-iterated this statement to drive home his true thoughts and feelings of Rigid Industries.
Rigid Industries LED Lighting has moved its headquarters from its previous 15,000 sq. ft. location in Mesa, AZ, to its new home in Gilbert, AZ. The new headquarters stretches a staggering 50,000 sq. ft. and houses all facets of Rigid Industries, including: Engineering, Assembly, Packaging, Warehousing, Sales, Marketing, Accounting, and Customer Service. Rigid Industries takes pride in the fact that our LED lighting products are designed, engineered, and assembled in the USA and more specifically, near to where the company began. Staying local not only helps build our local economy by bringing over 130 jobs to Gilbert but also allows the company to remain hands-on to ensure the high level of quality that customers have come to expect from Rigid.
About Rigid Industries:
Established in 2001, Rigid Industries has become a world leader in the vehicular mounted LED Lighting Industry. Rigid LED Lighting Products can be used for Off-Road LED Lighting, Military LED Lighting, Agricultural LED Lighting as well as Marine LED Lighting. Rigid Industries is committed to supporting their customers and the industries they work in by continuously developing new product lines to meet their needs. For more information please visit http://www.RigidIndustries.com.
###