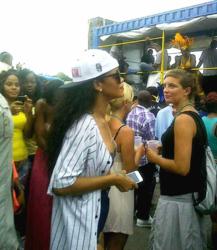 Visit Barbados Today!
(PRWEB) November 20, 2012
Meet Rihanna at the website of choice for all things Barbadian - Totally Barbados who is proud to acknowledge Rihanna's placement in the Guinness World Records 2013 book for becoming the best-selling digital artiste in the U.S.A.
The light of Barbados singing sensation Rihanna, continues to shine brightest in the galaxy of superstars.
During her relatively short career, the Barbados-born artiste has sold an incredible 47.57 million digital tracks in the U.S.
She eclipsed competition from The Black Eyed Peas (42.4 million career digital sales), Eminem (42.29 million), Lady Gaga (42.08 million) and Taylor Swift (41.82 million).
Rihanna in Records Book Before
This is not the first time the 24-year-old from the island of Barbados has made it into the Guinness World Records book.
Rihanna was featured in the 2012 edition for being first woman to have had number one singles in the United Kingdom for five consecutive years from 2007-2011.
In 2010, she was also named the best selling download female artist in the UK.
Unapologetic, Rihanna's latest album, was released worldwide on Monday November 19th, 2012.
"Diamonds" is the massive first single hit from that album and it debuted with number one postings at iTunes in 27 countries, and was in the Top 5 iTunes in 55 countries.
The album has been promoted at smaller than usual venues during the "Rihanna 777" tour, a world-wind seven-day affair around the globe. It touched Mexico, Toronto, Stockholm, Paris, Berlin and London before culminating in New York City.
Rihanna's Star Power Sells Barbados
The globetrotting and Rihanna's rising fortunes in general are not just good for her but also Barbados.
The island native has a three-year contract with the Barbados Tourism Authority to promote the country of Barbados on her Travels.
As part of that marketing campaign, in November 2012 she released a series of photographs with her on the island.
The images show a seductively dressed Rihanna enticing people to visit Barbados.
This is an effort by the BTA to boost the country's tourism industry, the main engine of economic activity.
Rihanna's selection as an ambassador for Barbados was an easy one and not just because of her hometown roots.
Her star power has translated into 63 million followers on Tumblr, 26.5 million followers on Twitter, and 62 million likes on Facebook.
That level of outreach represents tremendous potential for marketing that Barbados wants to tap into.
Doing so has become even more critical for the country at this time as it, like many others across the world, struggles with the global economic downturn.
The BTA's full campaign featuring Rihanna is expected to be released for the winter season, which in Barbados runs from mid-December to mid-April.
Visit Barbados Today!
BOILER PLATE
About Totally Barbados and Brecal Inc.
Brecal Inc., operating under the name 'Totally Barbados' was founded by Brett Callaghan and is based in Barbados in the Caribbean. The company was incorporated February 24th, 2005.
Totally Barbados was voted the "World's Leading Travel Destination Website" for 2008, 2009 and 2010 by the World Travel Awards.
By guiding visitors to Barbados hotels, car rentals, restaurants, attractions and more on Totally Barbados dot com, visitors can easily plan their entire holiday and vacation, before arriving in Barbados.
Promoting all there is to know about the Caribbean Island of Barbados - that's Totally Barbados.
MEDIA CONTACT
Founder and Managing Director
Brett Callaghan
Brecal Inc. / Totally Barbados
140 B Durants Fairways,
Christ Church, BB17097,
Barbados.
For more information on Brecal Inc. / Totally Barbados, please call (866) 978-5898 or (246) 420-2420.
Email: service(at)totallybarbados(dot)com