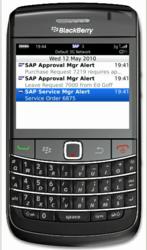 We are now delivering mobile tools for every part of our customers' value chains – from suppliers to office staff to consumers.
Orlando, FL (PRWEB) May 03, 2011
BlackBerry World 2011- Syclo, the leading provider of mobile applications for SAP, IBM Maximo, TRIRIGA and other enterprise systems, comes to this year's BlackBerry® WorldTM 2011 show with an expanded portfolio of apps for BlackBerry® smartphones. Known for its industrial-grade SMART Mobile Suite solutions for Asset Management and Field Service, Syclo positions itself to serve more mobile employees through easy-to-use, lightweight versions of its applications on the BlackBerry® platform.
"We're seeing a big shift in who wants to use our applications and how," said Rich Padula, Syclo's founder and CEO. "On the one hand, there is increased demand for business applications outside traditional field worker groups. We are now delivering mobile tools for every part of our customers' value chains – from suppliers to office staff to consumers. On the other hand, even employees who already use complex applications on laptops and ruggedized handhelds now ask for BlackBerry smartphone applications for select parts of their work. These factors make our investments in the BlackBerry platform very worthwhile."
Syclo's applications are built as BlackBerry "Super Apps," featuring real-time data push technology and tight integration with the BlackBerry® Inbox, calendar, phone and peripherals. This helps Syclo deliver rich mobile application functionality while preserving the high level of user experience that BlackBerry smartphone users expect.
"When we set out to extend our SMART Mobile Suite applications to the BlackBerry platform, our goal wasn't to replicate the full breadth of functionality on the BlackBerry smartphone," said Paul Chiapuris, Syclo VP of Software Engineering. "It was to mold a complex mobile application around the way that users interact with their devices. With BlackBerry smartphones, this meant using the inbox as the launching pad for everything from work assignments to approval requests to detailed work orders. By incorporating these enterprise workflows into the employee's everyday message flow, we can deliver a seamless experience and speedy execution of business processes in the field".
Among the applications demonstrated at the annual Orlando, FL event are SMART Service Manager, SMART Work Manager and SMART Approval Manager. To learn more about these solutions, please visit http://www.syclo.com
About Syclo
Since 1995, Syclo has worked with over 750 organizations to create, deploy and manage a variety of business and consumer mobile applications. Syclo's software extends corporate systems and databases to a wide range of mobile devices and user types, helping companies cut costs, increase productivity and make better decisions across the board. Together, Syclo's Agentry platform and prebuilt SMART Mobile Suite applications present a flexible, reliable and cost-effective framework for enabling the mobile enterprise. For more information, visit http://www.syclo.com or email info(at)syclo(dot)com.
The BlackBerry and RIM families of related marks, images and symbols are the exclusive properties and trademarks of Research In Motion Limited.
Syclo is a trademark of Syclo LLC. All other trademarks are property of their respective holders. Copyright © 2011 Syclo LLC. All rights reserved. For more information, contact pr(at)syclo(dot)com.
###