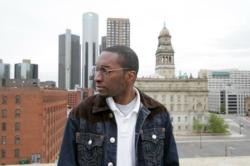 Miami, FL (PRWEB) July 11, 2012
Hip-hop artist R.I.M.E. has released the video for the single, "City of God." The concept for the video is derived from the Movie "I am Legend," starring Will Smith. R.I.M.E. plays a character of hope in Detroit for the city's cry to find its true identity. The video is now available for view on YouTube.
Jeremy "R.I.M.E." Wilson grew up on the West side of Detroit. His stage name is an acronym for "Righteous Individual Making an End." Determined to achieve his goals, music didn't become a part of his career goals until he was in high school. He joined some friends for a freestyle session in their newly created record label and this marked the beginning of R.I.M.E.'s journey in the music industry. He went on to join the label as an artist and eventually became the Executive Producer. While working at the label, he spent his time working hard to master his recording style and business skills. In 2005, he released his first compilation "Twisted World."
Shortly after the release, he left music to seek out his other passion, acting. He had success in doing stage plays, but soon his passion for making music reemerged. R.I.M.E. decided to follow his passion and began making music again. His versatility and lyrical skill allow him to interact with various crowds from bars to churches. He aspires to use his music to become a powerful force in the music industry.
"Soon the doors will open and the World will feel the Power," says R.I.M.E.
Keep up with all R.I.M.E. updates by following him on Twitter: http://www.twitter.com/rimemusic.
About Coast 2 Coast Mixtapes
Coast 2 Coast Mixtapes are the most widely distributed mixtapes in the world, with over 100 million downloads/plays generated by over 200 volumes officially hosted by major artists. Coast 2 Coast has a solid reach in the new music industry with a digital magazine, DJ coalition, industry tips blog, yearly convention, and more. Coast 2 Coast Mixtapes represents a unique opportunity for artists of all urban genres, from major to indie. For more information, visit http://www.coast2coastmixtapes.com.
###