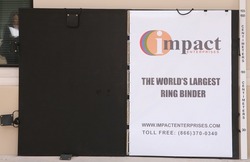 We have been serving our U.S. and International customers since 1987. Passion drives our innovation while service drives our business. We are challenged to meet the unique product design needs and objectives of our customers
London, England and Warwick, New York (PRWEB) February 23, 2011
Guinness World Records Limited announced today that Impact Enterprises, Inc of Warwick, NY and Las Vegas, NV, has been awarded a certificate for the new Guinness World Records record for "Largest Ring Binder."
The subject ring binder measured 113cm wide x 155cm high (approximately 44.5" wide x 61" high) in the closed position. Impact Enterprises, Inc. is the acknowledged international leader in custom binder cover, menu cover, presentation folder, portfolio, and other information packaging design and manufacturing.
"We have been serving our U.S. and International customers since 1987. Passion drives our innovation while service drives our business. We are challenged to meet the unique product design needs and objectives of our customers," states Bobi Hamilton, President & CEO.
The ring binder is a functional binder that was manufactured for a customer required to present oversized technical drawings to the military. The binder was not manufactured to win a contest. A prototype was submitted to Impact's customer for approval. The prototype was approved, and an order placed for several pieces. According to Ralph Salisbury of Impact Enterprises, the thought to submit these binder specifications to Guinness Book of World Records did not occur to him until almost four months after the binder order had been completed.
"I was reviewing first and second quarter orders for year 2010 when I came upon this order. I just wondered if anyone had ever manufactured a functional ring binder close to this size. After a few moments, Guinness Book of World Records came to mind, and I pursued it," says Salisbury.
In order to comply with Guinness's submission requirements, Impact Enterprises had a Notary Public present, a reporter from a local newspaper, a professional photographer, two industry professionals who could verify the functionality of the subject ring binder, a local real estate developer to take accurate measurements, and a representative from the office complex where the event occurred, all gather together on December 10, 2010 at 6550 S. Pecos Road, Las Vegas. The event was announced and open to the general public. In addition to the general public, in attendance were:

Sara Elder, Notary Public for the State of Nevada - Notary
Dana Anderson, Allen Photo Diversified – Professional Photographer
Laura Emerson, Las Vegas Review-Journal – Reporter
Vicki Hainsworth King and Chuck King, Mountain Vista Development, Inc, Las Vegas – Professionals for measurement recordation.
Mitch Hanson, The DOT Printer, Las Vegas – Industry Professional
Amy Hosier, Creative Aim Graphic Design, Las Vegas – Industry Professional
Josie Garofalo, Pecos-Sunset Office Plaza, Las Vegas – Manager and Event organizer
Tom Simko, Impact Enterprises, Inc., Las Vegas – Company representative
Ralph Salisbury, Impact Enterprises, Inc., New York – Company representative.
Impact's passion for creative design, new and unique materials is only matched by its initiative for environmental responsibility. A full line of eco-friendly products is available in all of Impact's unique and creative designs. The company just announced its new line of eco-friendly corporate, promotional, and commemorative gifts and memorials and can be viewed at http://www.impactenterprises.com, click on the UNIQUE tab.
About Impact Enterprises, Inc.
Since 1987, Impact Enterprises, Inc. has been helping small and large business with professional, unique, and affordable ring binder covers, menu covers, folio covers and more. Solutions are custom tailored for each client to fit their needs and budget.
###