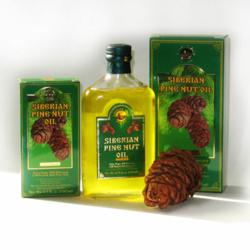 Cedar nut oil has also traditionally been used in ancient Russian and European natural medicine to cure a wide array of ailments
(PRWEB) February 28, 2013
Doctor Svetlana Nizkodubova explains that uniqueness of Ringing Cedars cedar nut oil is in majestic Siberian Cedars, their wild harvested nuts, method of nuts gathering and ancient production process: "Huge plantations of cedar trees grow in the Siberian taiga, said to be the ecologically purest area of the world. The virgin forest of the taiga has never been treated with any chemicals or artificial fertilization, nor abused by agricultural machines.
Cedar nuts (the seeds of the cedar tree) take two years to mature, during which time the tree accumulates a huge volume of positive cosmic energy. Crops of nuts are harvested manually by people lovingly devoted to this task, working in a pleasant environment without undue haste to create unique products full of positive energy reflecting the infinite powers of Nature."
Ringing Cedars cedar nut oil is the only one which is available on the market anywhere in the world pressed with wooden presses in accordance with traditional techniques described in Vladimir Megre's life-changing book "The Ringing Cedars of Russia". In contrast, all other cedar nut oils are pressed using steel presses, which immediately degrades them (contact with steel oxidizes some of the cedar nut oil's most important ingredients such as vitamins, and is known to remove the 'life force' from the oil).
Doctor Nizkodubova said that "Cedar nut oil has also traditionally been used in ancient Russian and European natural medicine to cure a wide array of ailments - ingested (decreasing blood pressure, boosting immune system resistance, etc.) or applied externally (a range of dermatological disorders).It is also used in expensive cosmetics"
Ringing Cedars cedar nut oil comes exclusively from wild-harvested Siberian cedar nuts - one of the most nutritious cedar nuts in the world. In comparison, other cedar nut oils are usually pressed from the Italian pignolia cedar nuts, which are not nearly as potent and are often harvested from trees growing in plantations. Ringing Cedars cedar nut oil is extra virgin (100% cold pressed from freshly shelled raw Siberian cedar nuts), whereas most cedar nut oils on the market are either not cold pressed or even pressed from roasted (!) cedar nuts, which significantly decreases the oil value.
Also doctor Filchenko noticed that "in the market there were detected counterfeits of cold pressed extra virgin Ringing Cedars cedar nut oil in different packages, in bottles and gel capsules. Counterfeit and low quality Siberian cedar nut oil does not possess above mentioned properties. The best advice is not to take needless risks, and obtain genuine cold pressed extra virgin Siberian Cedar Nut Oil from official producer - RingingCedarsofRussia.org"
The unique Ringing Cedars cedar nut oil is available from http://www.ringingcedarsofrussia.org.